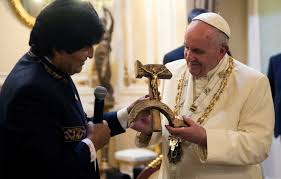 Courtesy of Sheik Yer'Mami (pbuh)
A POPE LIKE A FRUIT SALAD
"If I speak of Islamic violence, I must speak of Catholic violence,'

(Pope) Francis said. 'And no, not all Muslims are violent, not all Catholics are violent. It is like a fruit salad; there's everything.'"
Cherishing denial as a signal of high-minded comity, His Holiness continued: "I do not believe it is right to identify Islam with violence. This is not right or true."
This pope is not kosher.
by Hugh Fitzgerald
A glutton for punishment, I turned to the Vatican paper, L'Osservatore Romano, to read the Pope's exact words, in the original Italian, about the killing of the indomitable priest in Rouvray. Here is what the Pope had to say to the journalists flying with him to Cracow:
"Quando io parlo di 'guerra', parlo di guerra sul serio, non di 'guerra di religione', no!", ha esclamato Bergoglio. Il quale ha poi precisato: "C'è guerra di interessi, c'è guerra per i soldi, c'è guerra per le risorse della natura, c'è guerra per il dominio dei popoli: questa è la guerra. Qualcuno può pensare: 'Sta parlando di guerra di religione': no. Tutte le religioni, vogliamo la pace. La guerra, la vogliono gli altri. Capito?".

È tornato poi a parlare di "guerra a pezzi", parola che secondo lui inquadra meglio la situazione rispetto al termine "insicurezza". A proposito di guerra, ha affermato che "c'era quella del '14, con i suoi metodi, poi quella del '39 – '45, un'altra grande guerra nel mondo, e adesso c'è questa. Non è tanto organica, forse, organizzata, sì,

"When I speak of war, I'm talking about real war, not a "war of religion, no!" the Pope exclaimed. And then he extended his thought further: "There are wars over interests of all kinds, wars over money, wars over natural resources, wars fought to establish dominion over other peoples: those are all real wars. Someone might think: "You're talking about wars of religion." No. All religions want peace. It's others [the non-religious] who want war. You understand?"

And he then started to talk about a "war" being conducted piecemeal, which according to him better described the current situation than the term "insecurity," On the question of war, he maintained that "there was the war of 1914, with its methods, then the war of 1939-45, another world war, and now there is this one. It's an organized campaign, although not planned at every step."
Take a minute to rub your eyes in disbelief. Apparently the Pope, like the shallowest campus Marxist-Leninist, believes that all wars are caused by conflict over resources of one kind or another: land, natural resources, populations to be plundered. Apparently the Pope, the head of the Catholic Church, cannot believe that religion can ever be the cause of wars.
Apparently the Pope has never heard of the Wars of Religion with which the Papacy was deeply involved over several centuries. Apparently the Pope believes that once a set of beliefs manages to be called a "religion," it immediately is transformed into some kind of ambulating peaceable kingdom, incapable of participating in, much less causing, a war.
For Pope Francis, the apparent template for wars are the two world wars, which were indeed over such interests as land (Hitler's lust for Lebensraum), resources (Japan's Greater East Asia Co-Prosperity Sphere), or simple military rivalry (such as that between Germany and Great Britain, for control of the seas, which was of such importance before World War I).
But even if the many wars of religion in Europe have slipped his mind, let's help him, and fish up from the Lesser Lethe, with the aid of Wikipedia, some of those wars of religion: