So much for AIPAC's highly vaunted influence. If people choose tyranny, that's what they'll get.
The line in the sand between both parties couldn't be any more clear.
Reports: Palestinian Flags Outnumber American Flags at Democratic National Convention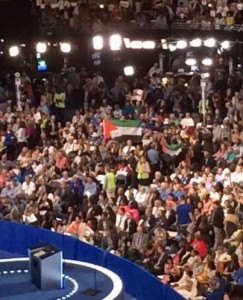 Palestinian flags were prominently displayed by activists at the Democratic National Convention (DNC) on Monday, amid an apparent lack of American flags, according to numerous media and social media postings.
Eye-witness accounts and press coverage of the first day of the DNC pointed out the limited presence of Old Glory.
According to Daily Caller reporter Alex Pfeiffer, "It doesn't look like there are any American flags. The stage is bland and grey, with no red, white or blue present. A thorough look at the crowd present also turns up no American flags."
In addition, activists were seen holding up signs reading, "I support Palestinian human rights."