Which is basically a wish for his immortality….
To Bernard Lewis from @Martin_Kramer :"may he live to see democracy realized in the Muslim Middle" East.https://t.co/ersmWdZJdl

— Benjamin Weinthal (@BenWeinthal) June 1, 2016
The Return of Bernard Lewis
Forty years ago, nobody foresaw the rise of radical Islam—except for the preeminent historian who both predicted and explained it, and much else besides.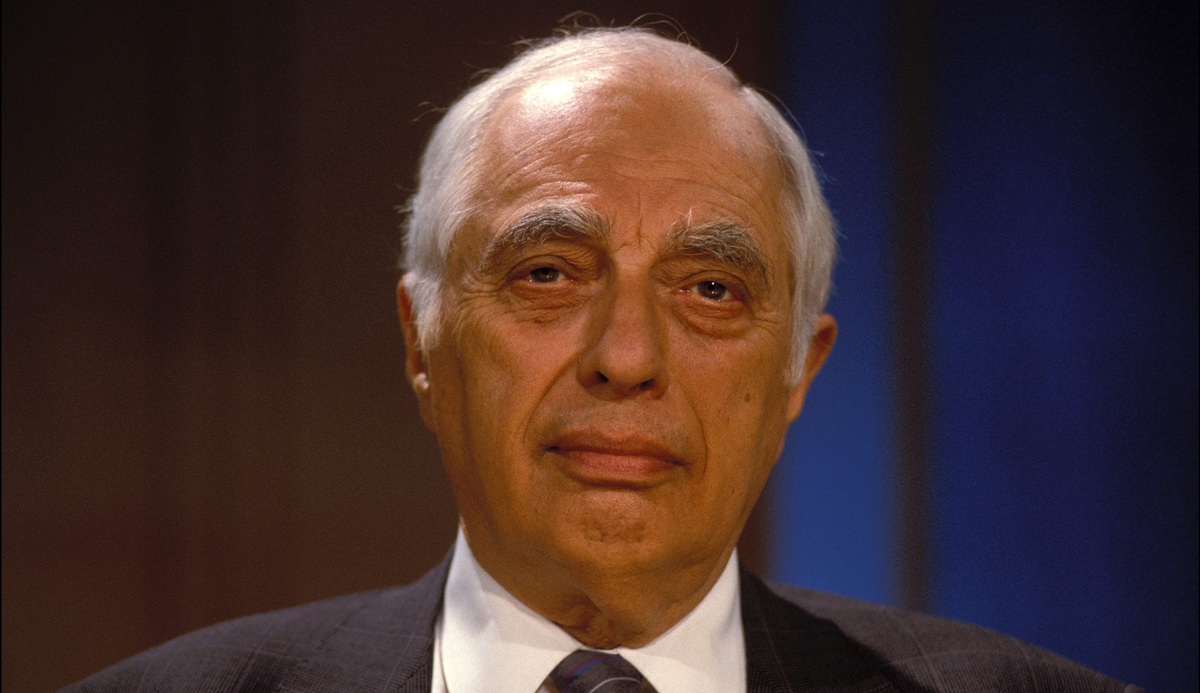 Bernard Lewis on French television in 1990.
Frederic REGLAIN/Gamma-Rapho via Getty Images.
JUNE 1 2016
---
A

s the year 1976 opened, the Middle East hardly seemed poised for a great transformation. The shah of Iran remained firmly seated on his peacock throne. Off in Iraqi exile, an elderly Iranian cleric named Ayatollah Khomeini nursed his grievances in obscurity. Anwar Sadat, Egypt's confident president, had the country under his thumb; the Muslim Brotherhood and its offshoots languished in ineffectual opposition. In Saudi Arabia, a young man named Osama bin Laden finished his education in an elite high school, where he had worn a tie and blazer. Since the previous summer, Lebanon had been roiled by battles, according to Western reportage, between "leftists" and "rightists." A key player there was the Palestine Liberation Organization under Yasir Arafat, darling of the international left and champion of a "democratic, secular state" in Palestine.

The role of Islam in politics? There wasn't any to speak of.

Imagine, then, the surprise of the readers of Commentary magazine when the January issue landed in their mailboxes bearing these words on the bright yellow cover: "The Return of Islam." The byline beneath that sensational headline did not belong to a roving journalist or a think-tank pundit but to Bernard Lewis, the eminent British historian of the Middle East, just recently transplanted to America. Thus did the West receive its very first warning that a new era was beginning in the Middle East—one that would produce a tide of revolution, assassination, and terrorism, conceived and executed explicitly in the name of Islam.
Dr.Andrew Bostom discusses with Robert Spencer Lewis' canonization as a M.E. savant, and his delusional call for "democratization of the Islamic Levant/Maghreb".
I spent an hour with my colleague, the prolific author Robert Spencer, discussing Bernard Lewis, nonagenarian doyen of Islamic Studies.  The entire interview, conducted as a segment for Robert's outstanding weekly series of Jihad Watch programs on the Aramaic Broadcasting Network,  is embedded above. Please read the summary assessment of my concerns before watching the interview. A more detailed analysis of Lewis's analytic pitfalls can be read here.