Pathetic, cowering, feckless, statist driven Europe…….
They're the ones who have created this scenario, they themselves alone are to blame for allowing these jackals not only entrance, but a base from which to operate in, Muslim NO-GO ZONES.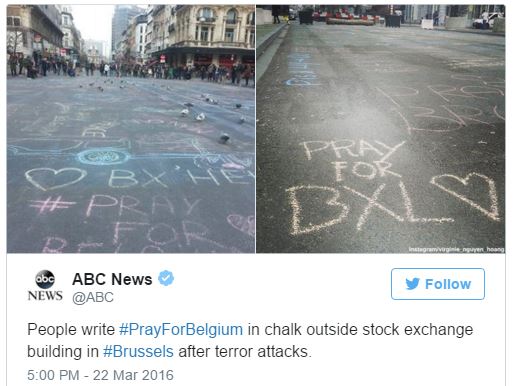 So, leave your flowers, light your candles and join your hands in a giant ring echoing kumbaya, while your civil societies that you alone have subverted, are terrorized, intimidated, and subjugated, inching ever more close to being fully islamized. You pathetic jerks.
Floral tributes in Brussels on Tuesday. Photo: AP Photo/Geert Vanden Wijngaert
Published: 22 Mar 2016 16:39 GMT+01:00
"This strikes at the democratic node of Europe. We're mourning with Brussels," said Löfven a
NOTE: An Israeli friend of mine sends the following on the symbolism of this marxist (fake) EU FM weeping and slobbering on and on to the Arab Muslim street….they're winning..
My brother in law, Iraqi Jewish father: barely ever talks to me about this kind of stuff, he saw her crying on the Israeli news last night and he brought up the subject. He knows exactly what that means.
A WEEPING WOMAN = WEAKNESS
EU foreign policy chief Mogherini weeps over Brussels bombings
22/03 13:30 CET
There was an emotional reaction to the Brussels bombings from European Union foreign policy chief Federica Mogherini speaking in Jordan's capital, Amman.
Fighting back tears, she cut short a news conference saying: "It's also a very sad day for Europe, as Europe and its capital are suffering the same pain that this region has known and knows every single day, be it in Syria, be it elsewhere.
"We are still waiting for more precise news on the dynamics of the attacks in Brussels, but it is quite clear that the roots of the pain we are suffering around our region are very much the same, and that we are united, in not only [the] suffering of our victims, but also reacting to this act and preventing radicalisation and violence together.
She then said: "I will stop here, you will understand this, today is a difficult day."