I like the pick up on Baron Bodissey's coined term of 'wacist'.
The whole wristband brouhaha, is brainstorm of Leftist malcontents who have been the driving force behind the smearing of those who have been highlighting the mass migration of the muslim settler movement. This is a non-issue, but the Left loves drama, misinformation and the spreading of lies to paint their opposition in any which way that they can to achieve their goals.
'Waycist Wristbands': The Extremism-Linked, Foreign Funded Activists Behind The 'Nazi Migration Policy' Story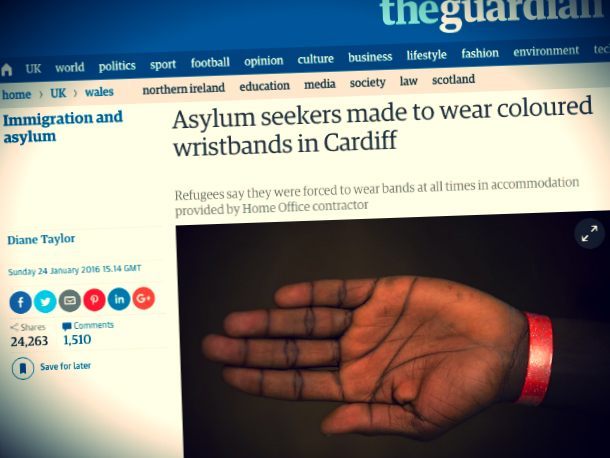 Watching the news this morning you'd have thought we were actually labelling migrants and asylum seekers in the United Kingdom with big yellow stars, then prodding them off to the gas chambers. Wristband Macht Frei – the new slogan of the UK Home Office, if the one-sided media reports are to be believed.
People – and I say "people" – I really mean wealthy, hard-left, "open borders" activists are apoplectic that a Home Office service provider has asked asylum seekers in Wales to wear wristbands so they'd know which meals to give them for free. I'm sure a lot of you reading this wouldn't mind wearing a wristband for three free meals a day – but that's besides the point. Let's look at the facts behind this story, and more importantly, the groups involved and their funding.
THE CLAIMS
It is quite clear from the outset that the crimes the asylum seekers are alleging – mainly being shouted "go back to your country" at – are a load of old cobblers. They claim that they're being abused by people driving past, because they're identifiable by the wristbands. But I would suggest – whether it's right or wrong – that they're probably more likely being identified because they're gathered in large numbers outside Lynx House – rented for them with our taxpayer money – causing a "nuisance". There's more about that here,but according to a neighbour of the hotel: 'They are a nuisance just hanging around all day long with nothing to do. They congregate outside and clog up the pavements but apart from that they don't seem to be any trouble".
This isn't a symptom of "racism", but rather frustration – perhaps not constructively put across – by hard working locals who see their roads being turned into "Asylum Street" or "Immigration Alley" (their words, not mine) – in turn a symptom of the UK's flimsy border control, left-wing activism, and the European Court of Human Rights' demands that Britain accept all those "entitled to a family life" into Britain