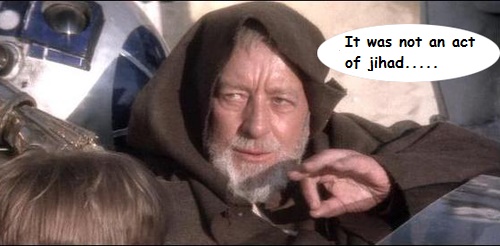 NBC has managed to deploy the CVE with such alacrity that they can claim that the muslim in France who deliberately drove his car into French soldiers outside a mosque screaming "allah hu ackbar" was not a terrorist and this was not a terrorist act by inventing highly flexible and context sensitive definitions of terrorism that they can let this fellow off while accusing non-muslim, white people who commit crimes or acts of barbarism as actual terrorists under identical definitions of the word. In this 16 minute French video, a French official attempts the same logical contortions explaining that his islamic war cry was merely a prayer he did before he was to be killed as a logical response to his actions, which was to commit vehicular murder against soldiers. It was of course, jihad. The motive was jihad and all the rewards that jihad brings to the jihadi upon death.
Man Who Drove Car at French Troops Guarding Mosque Not Linked to Terrorism
VALENCE, France — French investigators have found no evidence that a man who drove his car into troops guarding a mosque in southern France on New Year's Day was linked to a terrorist group, a local prosecutor said on Saturday.
"We have no evidence that could indicate an act of terrorism," Valence prosecutor Alex Perrin told reporters, saying the 29-year old Frenchman of Tunisian descent seemed to have acted alone. "He reportedly shouted "Allah is great", which suggests some sort of religious element."
"When he was apprehended, he mentioned the fact that he wanted to kill troops because troops killed people," the prosecutor added. "He said he wanted to be killed by troops."