That's exactly what the koran is full of, Jew hatred, and it doesn't have much good to say about Christians and pagans as well.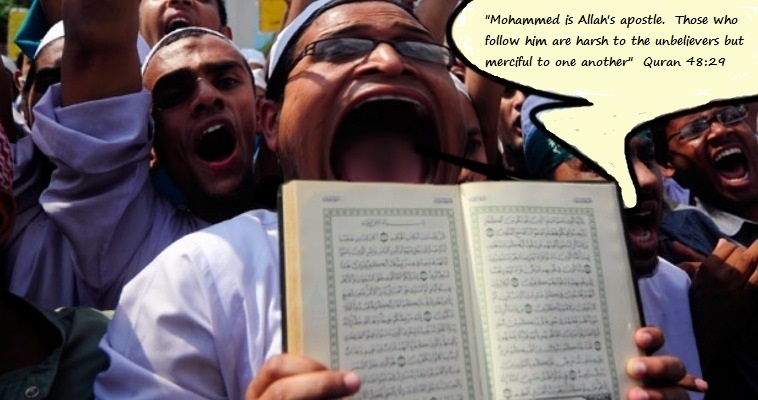 If your religion commands you to hate and treat others differently, maybe it's time to seriously contemplate leaving it.

H/T: Andy Bostom
Toronto ex-Muslim explains canonical Islamic Jew hatred, Muslims accuse her of hate speech,say she'll burn in hell. https://t.co/tQHRkZeTVe

— Andrew Bostom (@andrewbostom) January 2, 2016
A number of participants at the Reviving of the Islamic Spirit (RIS) convention approached the Christian protesters, booed them, accused them of hate speech and wished the woman to be burnt in the hell-fire before leaving the place.
Toronto protest against radical Islam turned into Christian Islamic dialogue
Four Christian activists demonstrated on December 27, 2015 against what they called the radical message of Islam in front of the Metro Toronto Convention Centre where the Reviving of the Islamic Spirit (RIS) convention was taking place.
They held signs with the following messages: "Love your enemies", "Not all who say to me Lord, Lord shall enter heaven. Matthew, 7:21", "Eternal Life = deny self, follow Jesus" and "Get right with Jesus. Read and heed the Holy Bible. Christ will come, judge, rule."
One of them was a woman who introduced herself as an ex-Palestinian Muslim who was raised in Saudi Arabia and escaped being killed by her family after she converted to Christianity.
In her speech, she read verses of the Quran in Arabic, translated them to English and based on these verses and other hadiths (record of the traditions or sayings of Muhammad the prophet of Islam), she argued that the Quran is a discretionary book, satanic, full of hatred towards the Jews and teaches Muslims to love death and to kill the unbelievers.