To be a devout pre and post hijra muslim (especially a leader) you can never really be a person of peace. Ever.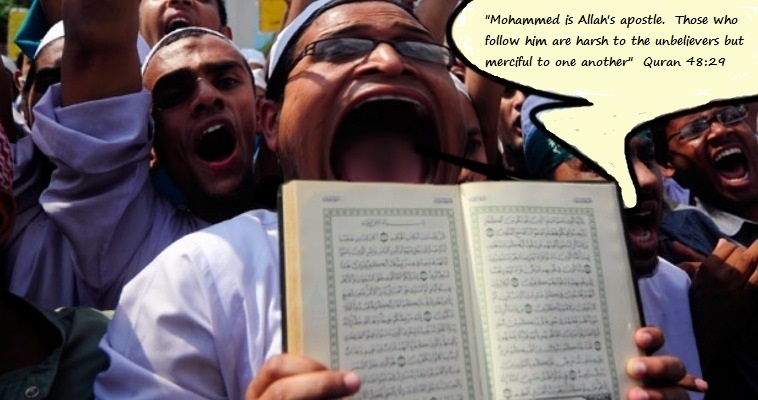 This is how Stinky Arafat played the international media long before MEMRI and other Arabic watchers were translating, his, and other Arabic speaking Muslims' speeches and utterances into English.
FLORIDA MUSLIM LEADER COMMEMORATES HAMAS, CALLS JEWS MONKEYS AND PIGS
Sofian Zakkout: Man of peace in English, hides his bigotry and violence in Arabic.
December 28, 2015
When South Florida Muslim leader Sofian Zakkout wants people to believe he is a man of peace, he speaks or writes it in English. But when Zakkout wants to show his true colors and curse Jews or call for violence against people, he does so in Arabic. This month, Zakkout's real self came out once again, as he labeled Jews the "grandsons of monkeys and pigs," while commemorating the 28th anniversary of Hamas.
Sofian Abdelaziz Zakkout is the Director of the American Muslim Association of North America or AMANA. While the organization may not be very well known outside of South Florida, AMANA is a major player for the Muslim community in the local area. In fact, Zakkout and his group have firm ties to two dozen mosques in the vicinity.
Because of Zakkout's position of leadership, when he makes a statement, it needs to be taken seriously. In English, he will tell media outlets about how he is a man of peace, about how he was, for years, the co-chair of the Jewish Arab Dialogue Association (JADA). In Arabic, he will make statements which are quite the opposite, supporting and inciting hatred and terror.
This month, Zakkout has been hard at work spreading the vilest of anti-Semitism in Arabic.