Islam is not here to coexist, but to supersede.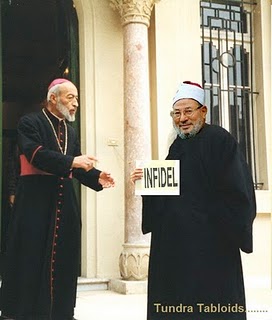 "…a Muslim truly believes that Islam is the only true religion, and that Muhammad is its prophet, why would he allow that which is false (and thus corrupt, cancerous, misleading, etc.) to exist alongside it?  Such gestures of "tolerance" would be tantamount to a Muslim who "wants to equate between right and wrong," as the sheikh correctly deplores."
THE LOGIC OF ISLAMIC INTOLERANCE
And why Western illogic cannot comprehend or respond to Islamic jihad.
December 2, 2015
Raymond Ibrahim is a Shillman Fellow at the David Horowitz Freedom Center.
A sermon delivered by popular Saudi Sheikh Muhammad Salih al-Munajjid clearly demonstrates why Western secular relativists and multi culturalists—who currently dominate media, academia, and politics—are incapable of understanding, much less responding to, the logic of Islamic intolerance.
During his sermon, al-Munajjid said that "some [Muslim] hypocrites" wonder why it is that "we [Muslims] don't permit them [Western people] to build churches, even though they allow mosques to be built."  The Saudi sheikh responded by saying that any Muslim who thinks this way is "ignorant" and
Wants to equate between right and wrong, between Islam and kufr [non-Islam], monotheism and shirk[polytheism], and gives to each side equal weight, and wants to compare this with that, and he asks: "Why don't we build them churches like they build us mosques? So we allow them this in return for that?"  Do you want another other than Allah to be worshiped?  Do you equate between right and wrong? Are Zoroastrian fire temples, Jewish temples, Christian churches, monks' monasteries, and Buddhist and Hindu temples, equal to you with the houses of Allah and mosques? So you compare this with that? And you equate this with that?  Oh! Unbelievable, for he who equates between Islam and kufr [non-Islam], and Allah said: "Whoever desires a religion other than Islam, never will it be accepted from him, and in the Hereafter he will be among the losers" (Koran 3:85).  And Prophet Muhamad said: "By Him in whose hand is the life of Muhamad (By Allah) he who amongst the Jews or Christians hears about me, but does not affirm his belief in that which I have been sent, and dies in his state (of disbelief), he shall be of the residents of Hellfire."
What's interesting about the sheikh's zealous diatribe is that, although "intolerant" from a Western perspective, it is, in fact, quite logically consistent and reveals the wide gap between Islamic rationalism and Western fantasy (despite how oxymoronic this dichotomy might sound).