If you're in the region, attend it!
Think about it — what the heck are we even doing "negotiating" with an evil regime hellbent on destruction? The whole premise of this thing is wrong. It's a long haul to D.C. for the rally but well worth it to take a stand against this asinine deal the President caved on. Our sworn enemy proclaiming, "Allah Akbar, death to America and death to Israel" still holds American hostages, boasts of using the $150 billion dollars we just freed up for them for nefarious uses, and laughs all the way to the banks of the Persian Gulf and beyond. Washington will hear the voices of "We The People" unified against this insanity. I look forward to joining Mr. Trump, Sen. Cruz, Mark Levin and other fed up patriots to rally the troops for America.
SARAH PALIN TO SPEAK IN DC AT ANTI-IRAN DEAL RALLY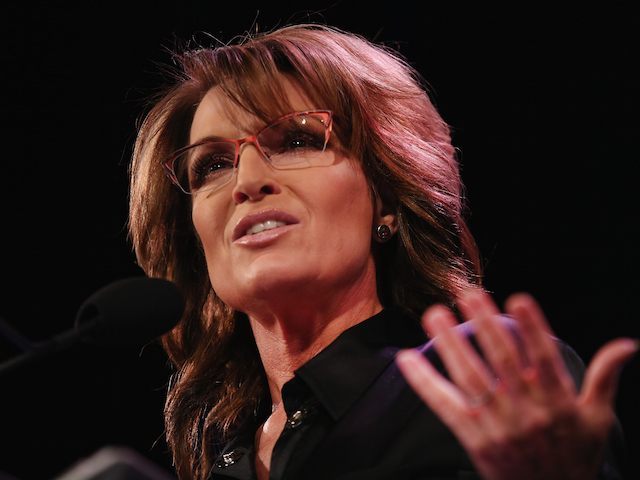 Scott Olson/Getty Images
Mrs. Palin goes to Washington. Former Alaska Governor Sarah Palin will head to the nation's capitol this week and she's also expressing interest of possibly spending some more time in D.C. in the future. While speaking to CNN's Jake Tapper on "State of the Union" Sunday, Palin took part in a rare interview from a mainstream outlet that was filled with substance rather than bias and gotcha questions.
During the segment, Palin announced that she will appear at a rally in Washington this week protesting the U.S. nuclear agreement with Iran. Presidential candidates Donald Trump and Texas Sen. Ted Cruz (R-TX) 96% will join Palin at the event along with several politicians, broadcasters, and other leaders concerned about a deal that President Obama has secured enough support for in the Senate to stop the GOP from blocking it.
"We walked away from the draft of that treaty giving a win to Iran, our sworn enemy," said Palin. "Iran, who immediately after the deal was struck, started mocking us and poking us and saying yes, of course we're going to violate it. Thanks for freeing up $150 billion, America, too."
Palin exclusively told Breitbart News that the American people will make themselves heard: