Right in the heartland of the Democrat machine, that's got to hurt.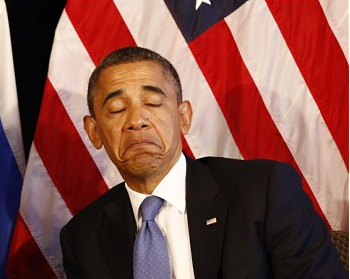 But will it make a difference? I think not, this demagogue hasn't a a real challenge confronting him from the feckless GOP "leadership", he's been running circles around them for years as they trip over their own shoelaces.
Although President Barack Obama continues to claim that "war" is the only alternative to approving the deal with Iran, those who oppose the agreement don't see it that way; neither does the Chicago Jewish Federation.
Influential Chicago Jewish Federation Says 'No' to IranDeal
The influential Jewish Federation of Chicago joins the growing opposition to the Iran nuclear deal.
Published: August 16th, 2015
President Obama press conference on Iran nuclear deal. July 15, 2015.
Photo Credit: Fox News screenshot
The Jewish Federation of Chicago has added its voice to the growing opposition to the nuclear deal negotiated by the Obama administration with Iran. In doing so, joining at least 17 other Jewish groups who have already expressed their opposition to the agreement.
In a statement released Friday after a three-hour meeting, the board of directors said a "majority opinion emerged and was adopted: to call on Congress to oppose the JCPOA as originally submitted, and to ask legislators to work with the Administration to produce better solutions addressing Iran's nuclear program."
The board noted that it had met with officials from the Obama administration, Israel, independent experts and members of the Illinois Congressional delegation, in addition to discussing the matter with "many hundreds" of its own community members.
The influential Jewish United Fund / Jewish Federation of Metropolitan Chicago, which claims to represent "the diversity of our beloved Chicago Jewish community," sees an annual revenue of some $100 million. The organization also coordinates the collective policies and programs of 46 constituent Jewish organizations through its support of the Jewish Community Relations Council.