A YLE (taxpayer funded) goofball presentation.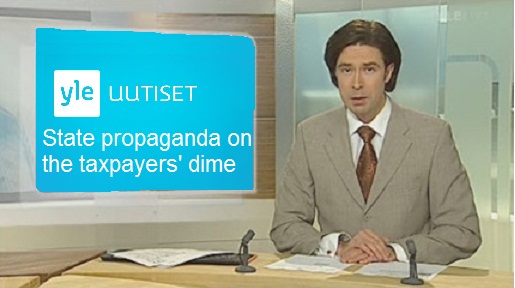 A bunch of leftists bloviating on issues they know nothing about, who could even be bothered to listen, let alone watch?
Yle's "human trafficking simulator" a very lightweight version of reality, producer admits
From Thursday evening four Finnish celebrities will lock themselves in a shipping container for 24 hours in a bid to generate discussion about immigration policy. But with air conditioning, extra space and a supply of water and chocolate, their experience won't be a patch on the reality for the thousands of migrants seeking to make it to Europe, the project leader says.
Passers-by in Vaasa's market square are likely to have noticed a new arrival in recent days – a bright orange, four-tonne shipping container, fitted with infra-red cameras and plastered with posters reading "One way ticket to Europe".
The installation is in fact the scene of an experiment by Yle's Kioski magazine show and Yle Radio X3M, in which four volunteers will spend 24 hours getting a taste of what it's like for the thousands of migrants who try to enter Europe by being stowed away in a shipping container.
First in to the 3 x 12 metre container, which is filled with wooden cargo boxes with just one metre between them, will be the rapper and activist Paleface, at 8.30 on Thursday night. He'll be followed by Yle presenters Rakel Liekki and Dan Granqvist, and journalist and filmmaker Susani Mahadura.
The co-ordinator of the project, Catarina Salo, says the hope is that the stunt will get people talking about human trafficking and the humanitarian disaster of people trying to cross the Mediterranean. So far this year thousands of migrants have drowned attempting to reach the European Union in overcrowded, makeshift boats. And dozens of people have suffocated or starved to death in recent years trying to get to the continent by hiding inside a container.
"This project is perhaps also a statement that we need to think about immigration policy, and the EU's responsibility," Salo says.
While inside, the volunteers' movements will be tracked by infra-red cameras mounted on the roof, and viewers can follow the celebrities' experience via a live stream.
Extremely lightweight
But Salo says she's the first to admit that what the volunteers go through will be a far cry from the experience of actual migrants.
Yle's participants will go into the container armed with a supply of water and chocolate, the space will be air conditioned, and with a one-metre gap between the boxes they are likely to have more room than in the real thing. Most importantly, an emergency handle will allow them to get out whenever they like.
"If we're honest, there is quite a bit of space in there compared to the real thing. Our container is an extremely lightweight version of what it's like in reality," Salo says, adding that the journey to Europe inside a container can last considerably longer than 24 hours.
But she says she hopes the stunt will at least get people thinking about the big issues behind the project.
"I hope the four people inside the container can add to the discussion on racism, human trafficking and the EU's refugee policy," Salo says.