Someone has to have the nerve to show up and ridicule these morons.
IN PICTURES: UK NATIONALS GROUPS AND HARD-LINE SOCIALISTS SQUARE OFF AT MIGRANT PROTEST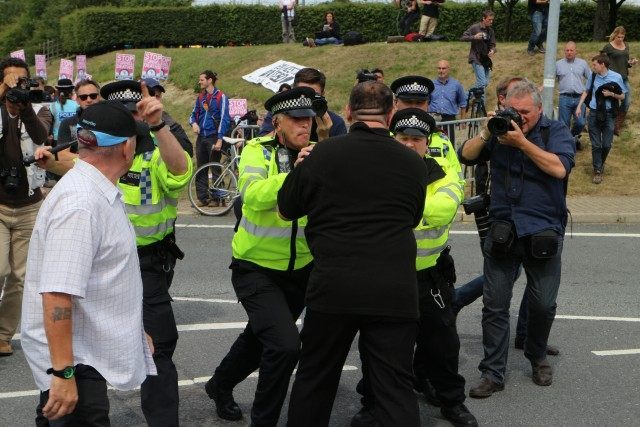 Liam Deacon/Breitbart London
FOLKESTONE, United Kingdom – Two very different groups gathered by the Eurostar service station in Folkestone today, the last town trains bound for France pass through on British soil. "United Folkestone" organised a "Stand with the Calais migrants" protest, and in response, Britain First and the English Defence League (EDL) held a counter demo.
The two groups gathered by the services, kept apart by the police, either side of the entrance. United Folkestone were supported by a few Green party members and a large contingent from "Thanet People's Assembly," a far-left group started by filmmaker Ken Loach and supported by Owen Jones et al. Bunny LaRoche, the pink haired socialist who became famous for ranting about UKIP on BBC Question time (when her hair was blue), and for following UKIP leader Nigel Farage around South Thanet during his parliamentary bid, appeared to lead the group.