Basic Islam 101 = hate of everyone else.
This lover of mohamed needs 400 000 for a building to help incite his followers against the infidel.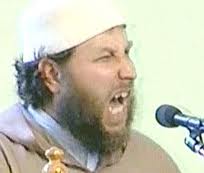 Hate-Imam Collects Money for New Mosque in The Hague
There are reports that Muslim institutions in the Hague are collecting money for a mosque to be led by the hate-Imam Fawaz Jneid. Through meetings conducted during the Ramadan holiday, supposedly €400,000 were collected. Until 2012, Fawaz preached in the As-Soenah mosque in the Hague, but the board stopped the collaboration as he conducted Muslim marriages without being preceded by civil marriages. This is illegal according to Dutch law, and Fawaz was found guilty of doing so. He also wished that movie maker Theo van Gogh get an incurable disease. Shortly afterward, Van Gogh was murdered by a Muslim.
FM: BNFTN via Omroepwest.nl