Finally, the right questions being asked.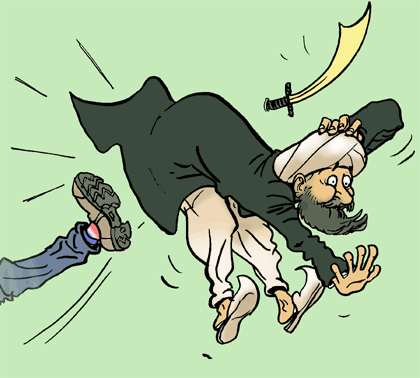 And the biggest point to make is that there is often no way for authorities to distinguish between a "conservative religious Muslim" and a "conservative religious Muslim who will commit mass murder."
NOTE: Any conservative religious muslim is committed to instilling the (public) sharia when it becomes a possibility. The jihad by pen, is always more dangerous and destructive to any society than any violent jihad.
How can we make it politically OK to talk about limiting Muslim immigration?
By Newsmachete
Every so often, there is a massacre.  Sometimes the monsters who commit them have names like Dylann Roof, but more often than not they have names like Muhammad Youssef Abdulazeez or Nidal Malik Hasan.  Given the fact that the vast majority of people in America are Christian, and only a small minority are Muslim, the preponderance of Muslim mass killers only further highlights the disproportionate number of killers who come from that community.
Let's be very direct: a substantial minority of Muslims in the world support terrorism and genocide.  That has to be true for organizations like ISIS, the Taliban, Boko Haram, al-Qaeda, al-Shabaab, and so on to exist.  These are large organizations, and they cannot exist without members and supporters, most (but not all) of them from countries in the Middle East.
Does it make sense, then, that we allow immigration of Muslims into the U.S.?  Muhammad Youssef Abdulazeez was a Muslim Palestinian immigrant from Kuwait.  Dzhokhar Tsarnaev, who bombed the Boston Marathon, was a Muslim immigrant from Kyrgyzstan.
They both killed many people.  And they are not the only ones.  Most Muslims we let into the United States will not become mass murderers.  But the problem is that a substantial minority of them sympathize with mass murderers, and some of those will go on to actually become mass murderers.  And the biggest point to make is that there is often no way for authorities to distinguish between a "conservative religious Muslim" and a "conservative religious Muslim who will commit mass murder."