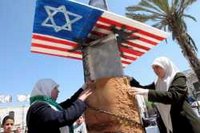 Palestinian Arab Terrorist Arrested in Jerusalem
Arab teen who attempted to stab Israeli soldier at Jerusalem checkpoint on Friday was arrested.
Published: July 10th, 2015
knife taken from Palestinian Arab terrorist at Jerusalem checkpoint on Friday, July 10, 2015.
Photo Credit: Twitter
A 17 year old Palestinian Arab was arrested on Friday, July 10, in Jerusalem.
Israeli border guards arrested the 17-year-old who refused to stop at their direction at the Qalandiya checkpoint.
Instead of obeying the border guards, the Arab teen pulled out a knife and stepped towards an Israeli soldier stationed at the checkpoint, according to the police.
There were no injuries reported.