Now you know how it feels for Israel to defend itself from the craziest pseudo journalism pieces, and on a regular basis.
That said, here's a major facepalm for you. Newsweek relied on as a source for the story, Jon Hellevig, a Russiophile and pal of Finnish nut-job, Johan Bäckman.
Johan Bäckman: "My good friend Jon Hellevig and Vladimir Zhirinovski strengthen Finnish and Russian relations today in Moscow."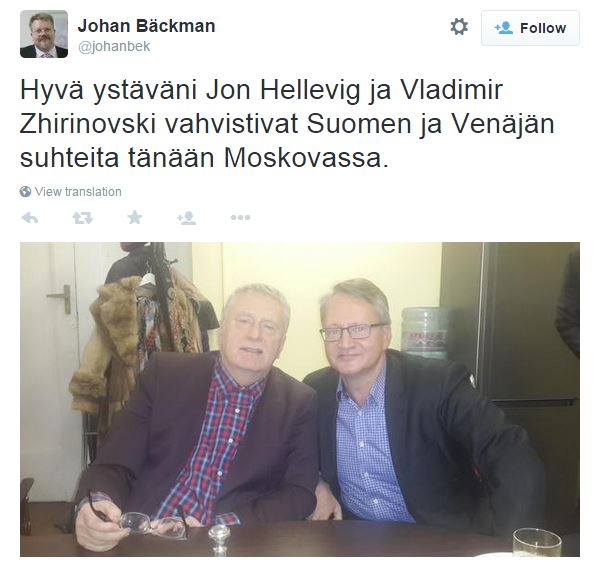 Great going Newsweek!
Defence Forces respond to Newsweek: "Reservist letter not connected to prevailing security situation"
US news magazine Newsweek published an article Friday afternoon featuring the headline "Finnish military preparing 900,000 reservists for 'crisis situation'". The communications staff of the Finnish Defence Forces rushed set the record straight on Saturday, saying that the campaign to send a letter out to all of Finland's reservists was two years in the making, and therefore has nothing to do with the security situation in the country at present.
The Finnish Defence Forces have responded to an article appearing in the US news magazine Newsweek Friday May 1 about the wide-ranging campaign currently being enacted to contact thousands of Finland's reservists. The Newsweek report claimed that the Finnish military is preparing its almost one million reservists for a crisis, linking the move to, among other things, last week's underwater sighting of an unidentified vessel off the Finnish coast.
[…]
"Several factual errors"
Kalliomaa says the Newsweek article also contained several factual errors, such as the number of professional soldiers working in the Finnish military. The magazine declares there are 16,000 people serving in the Finnish army as full-time professionals, when the actual number of peacetime military personnel is closer to 12,300, with half of the positions held by soldiers and the other comprised of civilian positions.
"Our system is based on a conscription army. In other words, a peacetime configuration maintains our readiness, and should the situation require, a field army would then acquire more operatives, as well as personnel with key competencies," Kalliomaa explains.
Newsweek notes that in the event of mobilisation, Finland could call on its former conscripts to fight; bringing its military might during wartime up to 230,000.
Newsweek also put the cart before the horse in its reporting of the Finnish parliamentary elections, saying that the Centre Party and the Finns Party had both already been elected to government, when in fact coalition negotiations are underway and the parties to be included in the Centre Party-led cabinet will not be announced until May 6 or 7.