Coming from someone who most certainly had studied what took place by a certain former German regime.
But like my pal Andy Bostom says, it's not enough to simply call it a genocide, it was in reality an act of jihad genocide, which means it was based upon an Islamic doctrine of total subjugation and/or annihilation of the other, the non-Muslim other.
Armenian killings were genocide – German president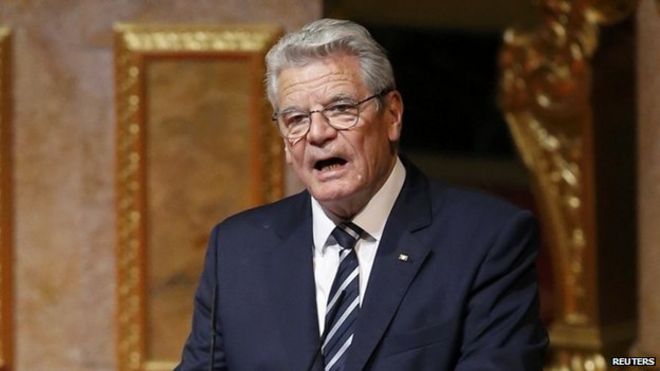 German President Joachim Gauck has described as "genocide" the killings of Armenians by Ottoman Turks, a move likely to cause outrage in Turkey.
He was speaking on the eve of a debate in the German parliament on the issue.
The Armenian Church earlier canonised 1.5 million Armenians it says were killed in massacres and deportations by Ottoman Turks during World War One.
Turkey disputes the term "genocide", arguing that there were many deaths on both sides during the conflict.
On Friday commemorations will mark the 100th anniversary of the killings.
German 'responsibility'
Speaking at a church service in Berlin, President Gauck said: "The fate of the Armenians stands as exemplary in the history of mass exterminations, ethnic cleansing, deportations and yes, genocide, which marked the 20th Century in such a terrible way."
He described the 1915 atrocity as "planned and systematic mass murder".
Mr Gauck, who holds a largely ceremonial role, added that Germans also bore some responsibility "and in some cases complicity" concerning the "genocide of the Armenians". Germany was an ally of the Ottoman Empire during World War One.
More here. H/T: Fjordman