Yeah, but they did condemn Israel as well.
I've refrained up until now from posting on Amnesty International's supposed condemnation of Hamas for war crimes. But since everyone on the pro-Israel side is highlighting it as a definitive step by the faux humanitarian organization to distance itself from its prior policy of refusing to acknowledge the obvious about the IslamoNazi Hamas (and Fatah) I thought I'd weigh in on the issue as well.
I say "supposed" condemnation of Hamas, because Amnesty used a slimy tactic of juxtaposing Hamas' real crimes with that of Israel's defensive measures that were in total keeping with international law standards, even exceeding them. Amnesty's insistence on including Israel in its report is banking on the overwhelming majority of the world's media to forget about the Hamas, and focus exclusively on Israel, and they're right. That is exactly what will happen.
Unlike the fake media (that I've personally run in to from time to time) Amnesty International can't claim ignorance about international law, it's their bread and butter, but yet they make irrational, nonsensical and totally bogus statements about Israel in violation of international law. So I'm left to conclude that they know better, but choose to smear the Jewish state nonetheless, so they're anti-Israel bigots.
I will go so far as to say that they're anti-Semites as well.
Hamas guilty of war crimes in Gaza clash, Amnesty International charges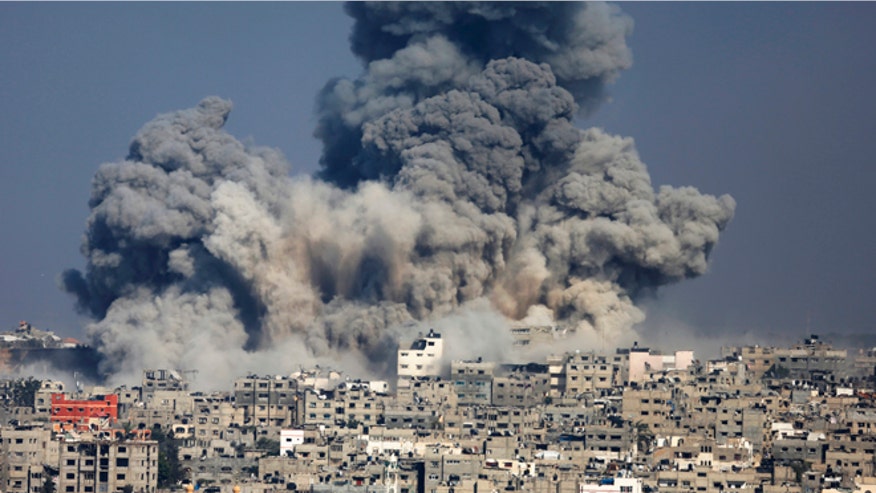 HAIFA, Israel –  A horrific missile attack that killed 11 children in Gaza during last summer's war between Israel and Hamas, for which Israel was broadly condemned at the time, was actually caused by a Palestinian missile misfiring and killing its own people, Amnesty International charged in a report released Thursday.
"In the deadliest incident believed to have been caused by a Palestinian armed group during the conflict, 13 Palestinian civilians – 11 of them children – were killed when a projectile exploded next to a supermarket in the crowded al-Shati refugee camp in Gaza on 28 July 2014, the first day of Eid al-Fitr," Amnesty's report said. "The children had been playing in the street and buying crisps and soft drinks in the supermarket at the time of the attack."
"Although Palestinians have claimed that the Israeli military was responsible for the attack, an independent munitions expert, who examined the available evidence on behalf of Amnesty International, concluded that the projectile used in the attack was a Palestinian rocket."
The report highlights the fact that the blast could not have been caused by a drone attack or as the result of Israeli shelling. The crater was too shallow, it said, while "its circumference was too wide to have been caused by a tank shell."
"Palestinian armed groups, including the armed wing of Hamas, repeatedly launched unlawful attacks during the conflict killing and injuring civilians," said Philip Luther, director of the Middle East and North Africa Programme at Amnesty International. "In launching these attacks, they displayed a flagrant disregard for international humanitarian law and for the consequences of their violations on civilians in both Israel and the Gaza Strip."
Israel's insistence from the start that the 13 deaths were caused by one of Hamas' own missiles going astray was generally disregarded as Hamas rushed to accuse Israel. Even repeated testimony from an Italian journalist in Gaza at the time that indicated a number of journalists were convinced the deaths had been caused by a Hamas shell, failed to persuade most people that the Israel Defense Force (IDF) was telling the truth.
The journalist, Gabriele Barbati, tweeted, "International journos [journalists] say: feeling today's massacre in Shaati beach playground #gaza was misfired rocket by Hamas or factions." The following day he added, "@IDFSpokesperson said truth in communique released yesterday about Shati camp massacre. It was not #Israel behind it".
NOTE: It's high time for the free world to lock Hamas into the same camp of genocidal-homicidal maniacs as the Islamic State and stop pretending that they're a national movement. They are not a national movement when they insist upon the genocide of the other, and want to incorporate the area into the larger ummah.