Anyone who dares buck the taboos and takes a stand against the existing norms in any Muslim country is a hero.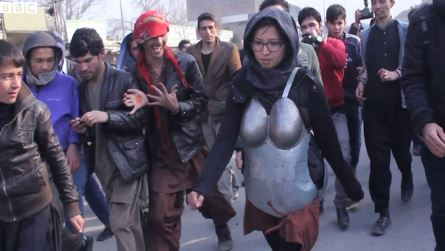 Afghan artist in hiding after 'iron underwear' stunt

By David LoynBBC News, Kabul
An Afghan artist has been forced into hiding after receiving death threats for dressing in a metal suit featuring exaggerated breasts and buttocks.
Kubra Khademi wore the unusual armour in a performance on the streets of Kabul to highlight the problems of sexual harassment faced by women.
She had hoped to make a walk lasting for 10 minutes but in the event was forced back into her car by an angry mob of men after only eight minutes. The men threw things and even children were shouting at her.
She said the men were yelling: "That whore. What is she doing? Is she a foreigner? Who the hell is she?"