Half right, but still dumber than dirt.
Muslims won't listen to her, because they know far too well about the role (violent) jihad really plays in advancing Islam around the world.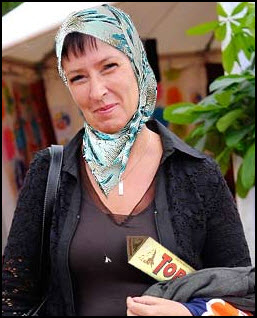 Mona Sahlin: "I am not that naive that I think one solution, or like jobs for terrorists, will solve it. Of course I have never said that. I said to work preventatively and try to find solutions, to try to find those young kids before the recruiters for ISIS finds them. Also, the religious part of Swedish society must dare to have a more open discussion about how Islam is not the religion of war, that Islam is not the religion of martyrs. They do not listen to a secular woman like me, they need to listen to religious leaders," Sahlin said.
This is of course what most governments have crafted their official discourse on Islam upon. it's the false meme of denying the jihadis any of legitimacy that they crave (not mentioning Islam, jihad in connection with their activities), will somehow translate into Muslims not following in their footsteps. That will never be the case.
In fact, they've got it all back-asswards.
What we need to be doing, is pointing out to the vast majority of Muslims who are not engaged in jihad, that this is what your ideology really stands for, totalitarianism, death and destruction, and its a time for choosing, modernity or a 7th century hell hole. In doing so, you also are informing the non-Muslim West as well. Stop adhering to fiction and delusion as a last form of refuge, wake the hell up and understand what we are fighting against.
How to stop Swedish teens from turning to extremism?
Published onsdag 11 mars kl 13:02
This week, the opposition Liberal Party held a seminar about how to meet the threat from violent extremism and the recruitment of young Swedes into organizations like ISIS.
In January the Swedish intelligence service Säpo said that at least 130 Swedes have gone to fight in Syria and Iraq and that the real number who have joined Isis may be up to 300.
Mona Sahlin is the former Social Democrat party leader and was appointed last July as the national coordinator against violent extremism. The job involves working to improve cooperation among authorities, municipalities and various organisations. In her seminar presentation, Sahlin said that no one is born an extremist.
"It is a deep and more rooted problem than many Swedes dare to see. The problem is not only with the ones who travel to Syria and Iraq. It is also the fear, shame and silence that appears in so many places in Sweden, not least of all in the suburbs," Sahlin said
Liberal Party MP Robert Hannah recently travelled to Iraq, visiting an area bordering ISIS-controlled territory and speaking with many of the refugees living there.
"A lot of the young people who are being recruited and going over there are being used as propaganda, to show that this is a worldwide movement against these individuals who are being hurt, being persecuted by ISIS," Hannah said.
Earlier this year, Mona Sahlin supported a Center Party proposal offering jobs and psychological help for Swedes returning from fighting with militants. But she said that cannot be the only measure used to counter the profound religious beliefs that lead Swedish teens to turn to violent extremism.
More here. H/T: Fjordman
NOTE: If and when Sweden eventually succumbs to Islam, future generations will have temporary politicians like Mona Sahlin to curse.