I second J.E.Dyer's observations, 100%
Netanyahu didn't just build the case for why Iran must be stopped.  He built the case for why we, collectively, have more choices than "a" deal or a military attack.  We have the choice of a better deal: a good deal, an effective deal, a deal that deters and retards radical Iran's current career.
NOTE: Nothing in the deal retards Iran's aggressive behavior.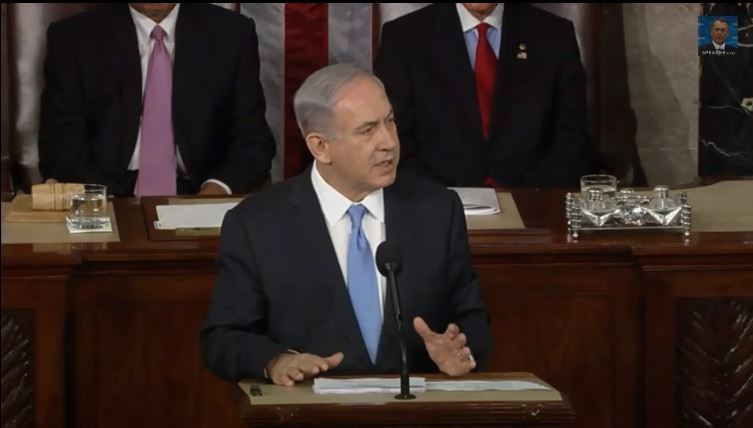 The two key aspects of Netanyahu's speech (Video)
By J.E. Dyer on March 3, 2015 at 3:45 pm
Full transcript of the speech here. Video below.
The main thing Benjamin Netanyahu needed to do today – the minimum requirement he had to meet – was establish that the U.S. Congress stands behind Israel, even if Israel has to act alone to defend herself from the existential threat of a radical, predatory Iran.
The support of the Congress represents the support of the American people.  Democrats and Republicans alike know that.
I wrote before the speech about the meaning of the people's support to Israel and Israel's freedom of action.  In effect, a robust and unified show of that support clarifies to the world that on this matter, and at this moment, at least, Obama doesn't speak for his people.  Americans do not approve of negotiating an on-ramp for Iran to either nuclear armament or an effective takeover of the Middle East.
Bibi got that robust and unified show of support.  When he said, "If Israel has to stand alone, Israel will stand," the gallery erupted in the most thunderous applause of the entire speech, and our senators and representatives surged to their feet.
Netanyahu could have gotten that response with a speech only a tenth as good – because he and Israel do have the support of the American people.  That, frankly, was never in doubt.
But he did something more than merely show up to participate in a ritual affirmation.  The affirmation – which certainly didn't come off as ritual in tone – was one of the key aspects of his speech.  It's what he came for and what he had to take home.
The other key aspect is what he didn't have to do, but did.  The measure of greatness is demonstrated in it.  He gave a statesman's speech – a better-than-necessary speech – in order to build a case for something better than Israel having to stand alone.