The Danish Islamic Council is a Muslim Brotherhood front group in Denmark, and nothing, not even their condemnation of the recent jihadi terror shootings in Copenhagen, can change their image. Also worthwhile noting, according to a TT source,
"Jehad al-Farra, is not only a follower of Al-Qardawi and participated in Muslim Brotherhood events, he is quoted as condemning the attack, in the mosque he was slated to lead, which is funded by Qatar, but has also expressed interest in broadcasting Hamas television to its followers.
[Danish Islamic Council calls the assassinations in Copenhagen a cynical act of terrorism. On Sunday gathered with Muslims in grief in Scandinavia's largest mosque.] DN.no
I deem the words of these Muslim leaders deploring the recent atrocities in Copenhagen, as clever sophistry. The condemning of the murders in Paris and in Copenhagen are meant for non-Muslim ears only, they will never, ever condemn the hadiths and koranic scriptures that demand, compel the Muslim to kill those who offend their prophet. You only need to look at the recent post by Dr.Andrew Bostom, who proves that the killing of non-Muslims defaming Islam is condoned by Islamic law.
This is the same kind of stratagem Yasser Arafat was known to employ, during the Oslo years, use temperate language to assuage Israeli/Western concerns, while working steadily towards fomenting unrest and subverting Israeli society. That the Danish Islamic Council refuses to crack down on extremists totally discredits their condemnations on the attack. I have yet to hear their condemnation of this Imam in Denmark.
Also, none of Finland's Islamic leaders will ever admit to this, nor do you hear anything to the contrary from the myriad of other Islamic leaders in Scandinavia. It's a duplicitous game. The only ones who dare espouse the truth, are the ones with little capital at risk, the true believing Muslim on the street, the ones who clearly know what Islamic law and tradition call for, that the murders were entirely in keeping with Islamic norms.
No doubt that some are completely clueless as to what their religion demands, being more secular in their daily lives, but I advise everyone to read what pre-eminent Princeton scholar Bernard Haykel has to say about that mindset, because it is indeed a factor why they contribute to the muddying of  waters in the debate on Islam.
Over all, the outpouring of (supposed) outrage over the murders, is tempered by their refusal to be truthful of what their religion actually calls for, and the gullible (wanting to believe in anything that sounds moderate) Western non-Muslim leadership paying lip service to it.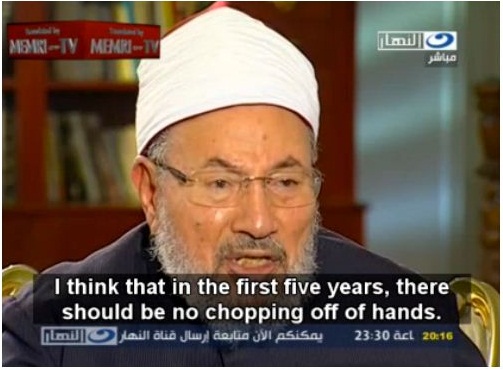 Imam in new big mosque praises extremist
Experts warn that a new large mosque could lead to parallel society and increased radicalization
The Imam of the new large mosque in Nørrebro, Jehad Al-Farra, seen here during a visit to Mecca, has close ties with the radical Egyptian imam al-Qaradawi.
Ekstra Bladet can today reveal that the association behind the new large mosque in Nørrebro, the Danish Islamic Council, and its imam Jehad Al-Farra is closely linked to the organization, the Muslim Brotherhood and the spiritual director Youssef al-Qaradawi, who preaches a fanatical Islamic ideology .
Al-Qaradawi is notorious for positions that homosexuals should be punished, that Hitler's Holocaust was Allah's punishment for the Jews, and that apostates from Islam should be executed. He fights also like the rest of the Brotherhood that the ultra-conservative Islamic Sharia law to be introduced globally.
An ideology that rubber stamped by Jehad Al-Farra, who besides being an imam in the upcoming big mosque, is past president and current board member of the Danish Islamic Council.
On Jehad Al-Farra's Arab facebook profile, it is revealed that he at the end of March this year took part in the general meeting of the Muslim Brotherhood in Syria.
Meanwhile, the Danish Islamic Council in November 2012 put an Arabic video on youtube where al-Qaradawi is honored and subsequently, there is a 22-minute sermon from Al-Farra about Islam.
And if the Brotherhood's ideology end up being preached at home, it can have serious consequences, warns the recognized security expert Lorenzo Vidino of the Center for Security Studies (CSS) in Zurich.
– Many sides of the Brotherhood's ideology is negative and controversial in Western society, eg. Their views on integration, women, freedom of religion and homosexuality. If you follow those in Europe will lead to a parallel society and increased radicalization, he says.
The Muslim Brotherhood has in recent years gained increasing influence in Europe, and that puts the authorities in a big dilemma.
– There are undoubtedly many sides of the Brotherhood's ideology, which is very problematic in a western society, says Lorenzo Verdino.
– But the grim truth is that there are other groups who salifisterne and Hizb ut-Tahrir, which is worse, there is a question about what you are willing to accept, he says.
Jehad Al-Farra confirms to Ekstra Bladet that he participated in the Annual General Meeting of the Muslim Brotherhood, but would otherwise not comment on the link.