The illegal action was a "Ferguson protest" on a Boston highway, they had to re-route an 83 yr. old crash victim because of Nelli Ruotsalainen and her pals.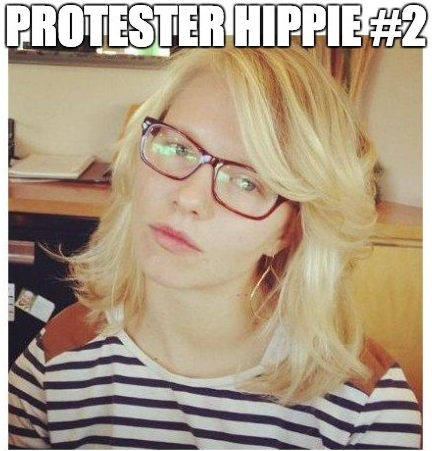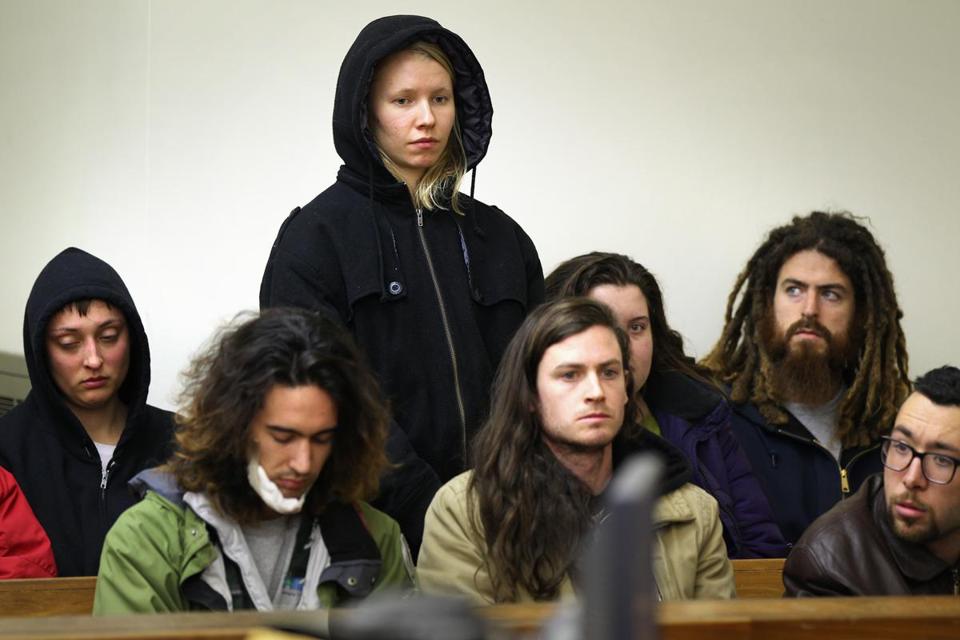 Also, it looks like the protesters didn't like being intruded upon by the media. Hopefully they were asking questions like, what gives you the right to infringe upon the rights of others (free movement/right of passage)? The mindset of the Left rings hollow.
NOTE: Ruotsalainen thought she could get away with it like they do in Finland, where anarchists/Leftists blocked a major part of the city's center for 6 hours and no one was arrested.
"She was not terminated because she protested, because if you take a personal day you can do what you want on that day. She was terminated because of the risk of public safety. … The way the events unfolded (Thursday) really bothered me," Walsh said.
Marty Walsh sacks city worker for role in barrel sit-in, citing safety risk
Mayor Martin J. Walsh has fired a 25-year-old city youth worker after learning the Roxbury woman was among 11 protesters who chained themselves to 1,200-pound, concrete-filled barrels in Milton on Thursday, snarling morning rush-hour traffic and stalling at least two ambulances, the Herald has learned.
"As mayor, you have to make tough, difficult decisions. This is not a difficult decision," Walsh said. "This was not based on the fact of this woman protesting. It was based on the fact of putting the public safety of other people at risk."
Nelli Ruotsalainen, a part-time youth communication specialist for the Boston Centers for Youth and Families, was noncooperative and "pled the Fifth" at her City Hall hearing yesterday, after which a Labor Relations committee recommended she be terminated, according to city officials.
Walsh said he fully supports the right to demonstrate but these protesters crossed the line — and endangered and disrupted people's lives. The mayor said he was particularly upset that the protesters jeopardized the life of an 83-year-old car crash victim whose ambulance had to be rerouted from Boston Medical Center to a Brockton hospital.
"You can't put people in harm's way like that," he said.
A separate group of 18 protesters blocked traffic by creating a "human chain" of bodies linked together with pipes, ropes and chains on I-93 in Medford. All 29 protesters were arrested and arraigned Thursday.
[…]
Ruotsalainen, a Finland native, could not be reached for comment yesterday. She pleaded not guilty in Quincy District Court to seven charges: trespassing, throwing glass on a public way, willfully obstructing an emergency vehicle, conspiracy, disorderly conduct, resisting arrest and throwing an object on a public way.
The mayor said the contract employee called her supervisor Thursday morning requesting an unpaid personal day.
[…]
First Amendment lawyer Harvey Silverglate said protesters' rights to free speech "go out the window" when they cause such massive disruption — and municipal employees have fewer such rights than regular citizens. "Even an ordinary citizen," he said, "could not be protected from that kind of disruptive activity."
Boston Herald H/T: Kristo Miettinen
NOTE II: Here she is during her soccer years, stating she's originally from Espoo Finland
Once again, Ayn Rand on civil disobedience.
Civil disobedience may be justifiable, in some cases, when and if an individual disobeys a law in order to bring an issue to court, as a test case. Such an action involves respect for legality and a protest directed only at a particular law which the individual seeks an opportunity to prove to be unjust. The same is true of a group of individuals when and if the risks involved are their own.

But there is no justification, in a civilized society, for the kind of mass civil disobedience that involves the violation of the rights of others—regardless of whether the demonstrators' goal is good or evil. The end does not justify the means. No one's rights can be secured by the violation of the rights of others. Mass disobedience is an assault on the concept of rights: it is a mob's defiance of legality as such.

The forcible occupation of another man's property or the obstruction of a public thoroughfare is so blatant a violation of rights that an attempt to justify it becomes an abrogation of morality. An individual has no right to do a "sit-in" in the home or office of a person he disagrees with—and he does not acquire such a right by joining a gang. Rights are not a matter of numbers—and there can be no such thing, in law or in morality, as actions forbidden to an individual, but permitted to a mob.

The only power of a mob, as against an individual, is greater muscular strength—i.e., plain, brute physical force. The attempt to solve social problems by means of physical force is what a civilized society is established to prevent. The advocates of mass civil disobedience admit that their purpose is intimidation. A society that tolerates intimidation as a means of settling disputes—the physicalintimidation of some men or groups by others—loses its moral right to exist as a social system, and its collapse does not take long to follow.

Politically, mass civil disobedience is appropriate only as a prelude to civil war—as the declaration of a total break with a country's political institutions.
NOTE: Finland's acting FM, Erkki Tuomioja, was involved in similar illegal public disruptions as well, in taking over a building with fellow students over some gripe that they had at the time.