A bold move against tyranny.
Landmark Legal's argument focuses on founding principles rather than questions of congressional intent. "The very dangers warned about by Locke and Montesquieu and considered by the Framers during the Constitutional Convention have come to pass," says the brief. "The Judicial Branch should not allow this to continue."

Citing the Federalist Papers and constitutional scholarship, it also states: "Tyranny flows from the arbitrary wielding of power."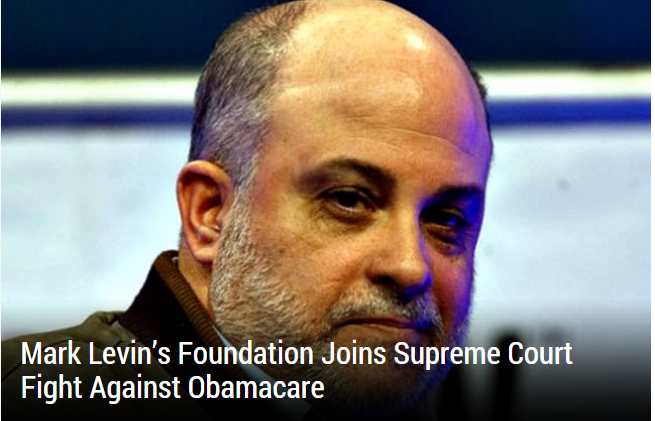 (Breitbart) – The Landmark Legal Foundation, the conservative public interest law firm founded by talk radio host (and former Reagan administration official) Mark Levin, filed an amicus curiae ("friend of the court") brief this week at the U.S. Supreme Court in King v. Burwell, which could decide the fate of Obamacare. The brief argues that by providing tax credits on federal health insurance exchanges, in violation of the law itself, the Obama administration violates the Constitution's separation of powers.
"The current administration and remaining members of Congress who support the [Affordable Care Act] want the Court and the American public to view the statute as 'the law of the land' and some form of an irrevocable compact–subject only to revisions that the Executive Branch sees fit to make arbitrarily on its own," the crisply-written 17-page Landmark brief argues. "The Executive has in fact made many such revisions to the ACA, with blatant disregard for both the statute's text and for the legislative process, by ignoring statutory mandates and deadlines and replacing them with new ones out of whole cloth."
The brief goes on to cite examples of the White House effectively rewriting statutory deadlines and other provisions of the ACA–many of which are also at issue in the separate lawsuit filed by the U.S. House against the Obama administration. In this case, subsidies intended for state exchanges–as an incentive for states to join Obamacare–were extended to federal exchange as well.