Oh, and he wants to remind us that he's not an anti-Semite.
Andy Bostom says: Lovely folks! And using Islamic epithets to boot—The wages of dhimmitude..
Just a couple of years ago Finnish politician Pertti Salonen stated that American Jews had to a large extent, both media and money in their pockets. A word to Esko Seppänen (Left Alliance,Vasemmisto), if you do not want to be mistaken for an anti-Semite, it's wise not to sound like one, spewing anti-Semitic remarks and innuendo, and then denying that they're anti-Jewish, doesn't fool anyone who knows better.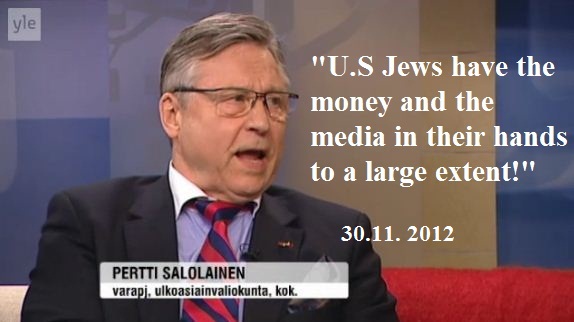 Esko Seppänen: "Chabad has strong links to espionage activities."
Ex-MEP: Helsinki sold city center property to spies and state terrorists
I'm not anti-Semite, says Esko Seppänen.
ILKKA LUUKKONEN 4 hours and 7 minutes ago
Esko Seppänen says that the Maritime Customs Barracks  should not be sold to Jewish groups.
Helsinki on August 19th 2014. LEHTIKUVA Jussi Nukari
The former MEP Esko Seppänen (left.) Criticizes the City of Helsinki's decision to sell the old Maritime Customs Barracks to the cultural organization of the Chabad Lubavitch. In Seppänen's view, the Orthodox Jewish organization could spy on Finland, being close to the Israeli secret service Mossad.
– The international funding that the Finnish branch of this association enjoys, the City of Helsinki has been selling real estate to its members' for cultural pursuits – and possibly also for the organization's  synagogue activity  – straight from Finland's parade scene at the Presidential Palace and in the immediate vicinity of the Government, Seppänen, writes in his blog.
The Maritime Customs Barracks being sold is located at Mariankatu 3.
Seppänen says that Chabad has links with espionage.
– Former Marine Customs property offers a great location, for example, the interception of messages of the telecommunications of the Finnish State and capture, in the same way that someone in Oslo, an unknown assailant, had spied on the telecommunications in the city center.
Seppänen believes that the Mossad represents "state terrorism and it is definitely a world-class sport." For this reason,Sea Customs Barracks will in the future also be an attractive target for anti-Israeli terrorist attacks, he says.
Chabad announces on its website to promote the issue of Judaism.