Of course the The Local uses the slur in the headline of their article to reinforce the Swedish SDP's outrageous meme.
Here's an earlier example of the Swedish political elite's demonization of the SD and its party head, Jimmie Äkkesson. Yes, as a cockroach.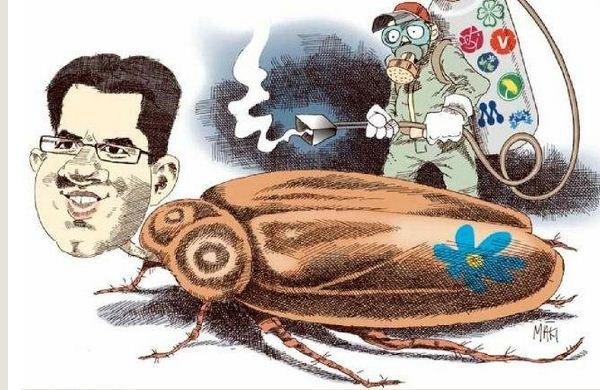 NOTE: The dopes still haven't learned that the more they keep up with the vitriol and name calling, the more numbers they add to the Sweden Democrat's ranks. So please, keep it up morons.
'Neo-fascist' Sweden Democrats want apology
Sweden Democrat party secretary Björn Söder giving a speech at the party's meeting in Västerås. Photo: Per Groth/TT
Published: 06 Dec 2014 17:45 GMT+01:00
In an editorial penned for leading Swedish daily Dagens Nyheter Löfven wrote "I will never act in a way that would give power over the country's development to a neo-fascist single issue political party that neither respects human diversity or Sweden's democratic institutions."
His remarks sparked a strong response from the Sweden Democrats' party secretary Björn Söder who claimed Löfven was talking "nonsense." Indeed the party believes that Löfven's attack may backfire at the polls and encourage more of the electorate to vote for them.
"I don't think such epithets belong in a serious debate. I think it's a bit rich to use such epithets," Söder told SVT at a weekend conference the party is hosting in Västerås, central Sweden.
Söder added to the TT news agency; "People are used to us being the target of such strange accusations. Of course we stand up for equal rights for everybody so it is complete nonsense."
Löfven's remarks came barely 24 hours after Swedish Minister for Finance Magdalena Andersson also referred to the Sweden Democrats as "neo-fascists."