And they do not see the gross hypocrisy of it all.
Islam is all about supremacy, and just like in former Christian Lebanon, Muslims cannot accept Muslims living in a state that identifies itself as something other than being Islamic, in what they consider as traditional Muslim land.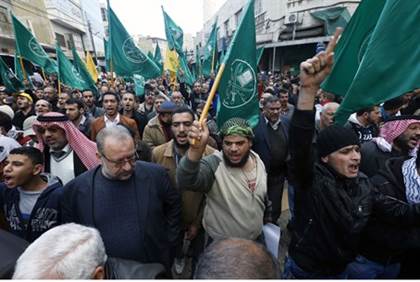 Islamist protesters shout anti-Israel slogans during demonstration in AmmanReuters
Jordanians Protest Against 'Dangerous' Jewish State Law
Muslim Brotherhood leads hundreds of Jordanians in a protest against Israel's Jewish State Law.
By Elad Benari, Canada
First Publish: 11/28/2014, 10:29 PM
Hundreds of Jordanians on Friday joined a rally organized by the Muslim Brotherhood to denounce Israeli plans to enshrine in law the country's status as the national Jewish homeland.
An estimated 1,500 protesters set off from the Husseini mosque in downtown Amman holding up signs saying "Al-Aqsa is in danger", according to AFP.
"There is a greater danger today, and that is the Jewish state draft law," Hamzeh Mansur, the former head of the Brotherhood's Islamic Action Front party, told the protesters.
"Where is Jordan's custodianship over Jerusalem and where is the promised Palestinian state?" he asked.
The protest comes amid tensions between Israel and Jordan in recent weeks, mostly around the Temple Mount, over which the Jordanian Waqf has control which it uses to restrict Jewish prayer and build illegal structures on the compound.
Jordan recently withdrew its ambassador from Israel, after violent Arab riots on the Temple Mount which it blamed on the Jewish state. There have also been calls by the Islamist dominated parliament to cancel the treaty with Israel in response to the tension on the Temple Mount. Jordan's Prime Minister has rejected those calls.
Jordan has accused Israel of planning to change the status quo at the Temple Mount so it is not discriminatory against Jews. Prime Minister Binyamin Netanyahu, however, recently declared his intention to maintain the status quo at the site, emphasizing that Jews would continue to be allowed to visit, but a ban on praying would remain.