This is what happens when there isn't a true functioning civil society.
This is why Mexicans are pouring over the borders into the United States, bringing their failed state inclinations with them.
Mexico president seeks to dissolve local police forces
By Laurent Thomet | AFP – 9 hours ago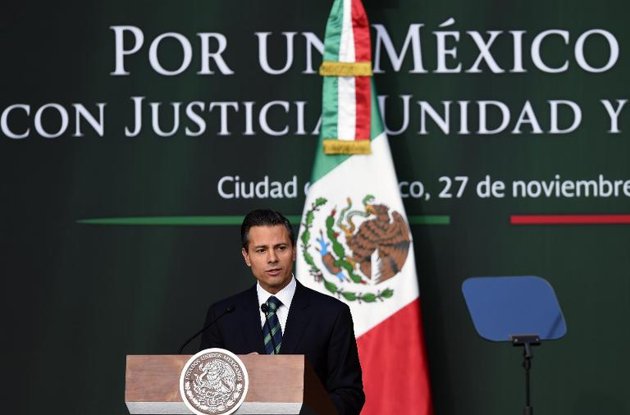 AFP/AFP – Mexico President Enrique Pena Nieto speaks about a new program against corruption and new order in the police, at the Palacio Nacional in Mexico City, on November 27, 2014People take part in a march demanding justice for 43 missing students, in Mexico …
Mexico's embattled president unveiled sweeping reforms to dissolve corruption-plagued municipal police forces nationwide amid an outcry over the role of gang-affiliated authorities in the presumed slaughter of 43 students.
More carnage hit Mexico hours before President Enrique Pena Nieto's announcement, with the discovery of 11 beheaded bodies in the troubled southern state of Guerrero — the same region where the students were attacked in September.
"Society has raised its voice to say enough is enough," Pena Nieto said, echoing the anger of Mexicans who have joined a wave of protests over a case that has highlighted the country's struggle with police corruption.
"Mexico must change," said the president, who is facing the biggest challenge of his two-year-old administration, in a speech at the National Palace before congressmen, governors and civil society groups.