Jihad.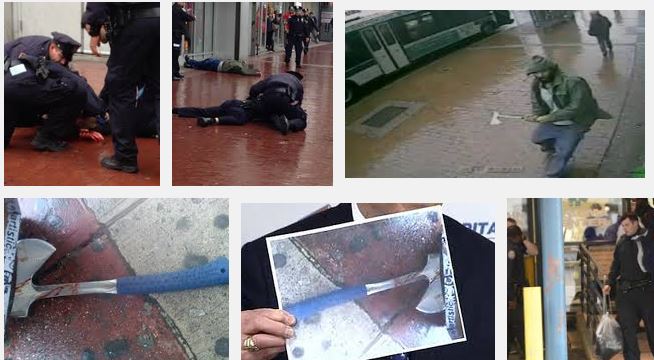 My buddy, Lori Lowenthal Marcus, over at the, Jewish Press, had an excellent piece from May of 2013 that foretold exactly what the next generation of jihadi attacks against the West would be like, individual acts of terrorism to strike at the heart of society in way not seen before. This is exactly the modus operandi of the jihadis to date, keeping the brain dead media & politicians drawing the wrong conclusions time and again. Read it, in full.
WHO IS THE GRAND STRATEGIST OF MODERN GLOBAL JIHAD?
His name is Mustafa Setmariam Nasar, although he's also known as abu Musab al Suri (the Syrian).  Perhaps his most significant contributions to the cause of global jihad was his insistence that the old-style al Qaeda, with its rigid hierarchical structure, was a disaster for the movement and had to be jettisoned in favor of a different strategy.  In his 1600 page manifesto, al Suri stressed the need for the global jihadi movement to create a new fighting style focused on "individual terrorism."  More here.
Terror connection not ruled out in ax attack, police say
Terrorism is not being ruled out in Thursday's hatchet attack on New York City police officers.
The New York City police shot and killed a man identified as 32-year-old Zale Thompson in multiple media reports, who attacked officers with a hatchet in the middle of the day in the Queens section of the city.
Videotape and witness accounts appeared to show Thompson purposely targeting four rookie New York Police Department officers, police said. The man was seen minutes before the attack pulling a hatchet from his backpack and began swinging toward the officers, police said.
A possible terror connection to the ax attack has not been dismissed, police said, as the suspect's alleged Facebook posts could be a cause for concern.
"This early on, we really cannot say yes or no to that question," Police Commissioner William Bratton said.
Police directed possible signs of a terrorist attack to the alleged posts that he wrote calling for a revolution on American soil.
"America's military is strong abroad, but they have never faced an internal mass revolt," the suspect allegedly posted on the social media site.