'Old Scruffy' up to his old game again.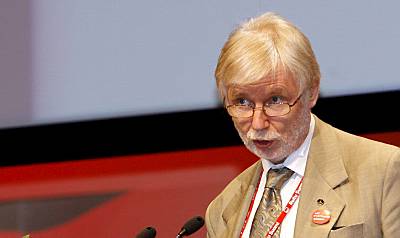 President Niinistö: Finland won't recognise Palestine, supports two-state solution
Finnish President Sauli Niinistö has brushed off the notion that Finland should follow the lead of neighbouring Sweden, where freshly-minted Prime Minister Stefan Löfven said his country would recognise Palestine as a state.  Speaking while attending the Frankfurt Book Fair, Niinistö said that Finland holds to the two-state solution, which recognises the rights of both Israeli and Palestinians to statehood.
According to President Niinistö Finland will not be looking to recognise Palestine as an independent state any time soon. Last week Sweden's new premier Stefan Löfven signaled he'd be prepared to acknowledge Palestine's sovereignty, however he didn't indicate when that would happen.
Speaking at the Frankfurt Book Fair, Niinistö said that Finland supports the two-state principle which recognises the right of both Palestinians and Israel to statehood. He pointed out that this solution required reconciliation between the two nations.
"This has been discussed repeatedly. Only after that can we bring up the question of recognition," Niinistö commented.
The President pointed out that Finland supports Palestine's special status in the United Nations, and noted that a Palestinian representative office had long held a unique position in Finland. He stated that Nordic countries tended to treat Palestinians in the same way.
For his part, Prime Minister Alexander Stubb told the Parliament Tuesday that recognition of an independent Palestinian state was not on the agenda at the moment.
Stubb's and Niinistö's comments followed remarks by Foreign Minister Erkki Tuomioja, who said Monday that Finland will make its own policy decisions, but pointed out that Nordic countries have traditionally exchanged ideas on issues relating to the Middle East.