Patriots and moral giants.
As a side note to the main story, for once I would like to see pro-Israel activists strap on a sign reading "homicide/suicide bomber, and with cameras rolling try to break these mock "check points" and "walls". It's a win win situation whatever they do in response.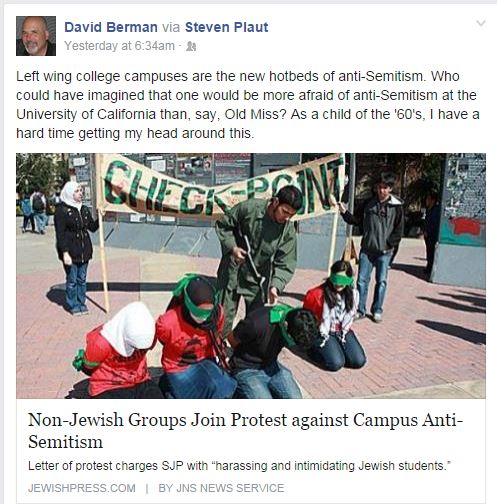 Letter of protest charges SJP with "harassing and intimidating Jewish students."
Published: October 2nd, 2014
A group of 14 Jewish and non-Jewish organizations has issued a letter to more than 2,500 U.S. colleges and universities urging them to protect Jewish students on campus in light of rising anti-Semitism in America and abroad.
The organizations include Alpha Epsilon Pi, AMCHA Initiative, American Association of Jewish Lawyers and Jurists, Americans for Peace and Tolerance, Christians United for Israel, Committee for Accuracy in Middle East Reporting in America (CAMERA), David Horowitz Freedom Center, Hasbara Fellowships, Institute for Black Solidarity with Israel, Louis D. Brandeis Center for Human Rights Under Law, Scholars for Peace in the Middle East, Simon Wiesenthal Center Campus Outreach, StandWithUs, and the Zionist Organization of America.
"None of us should tolerate a campus climate of fear or disrespect, which can seriously impair the physical and psychological health of students and create conditions that negatively affect their learning and their ability to achieve their full potential," the letter states.
More here.