Live blogging the event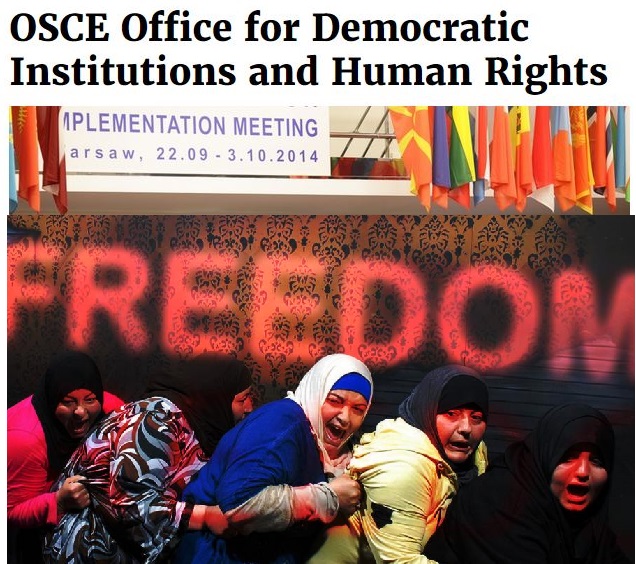 Elisabeth Sabaditsch-Wolff, Stephen C. Coughlin and Arthur Brooks.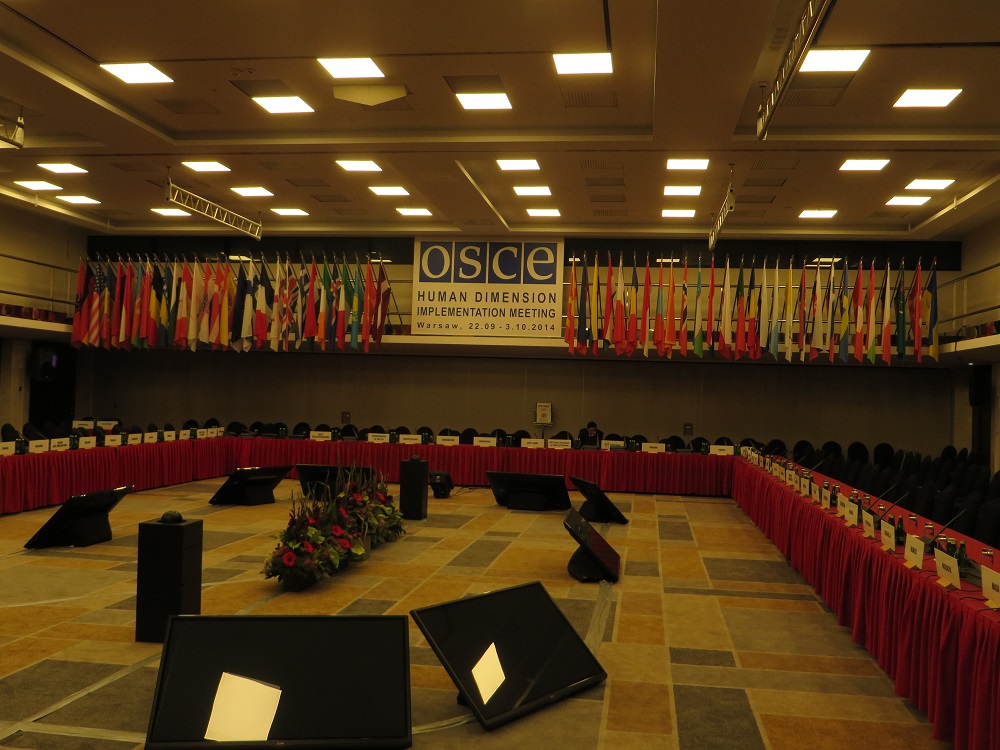 Stephen Coughlin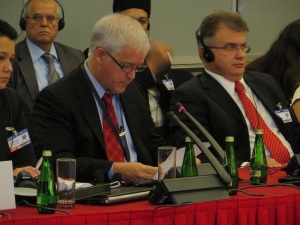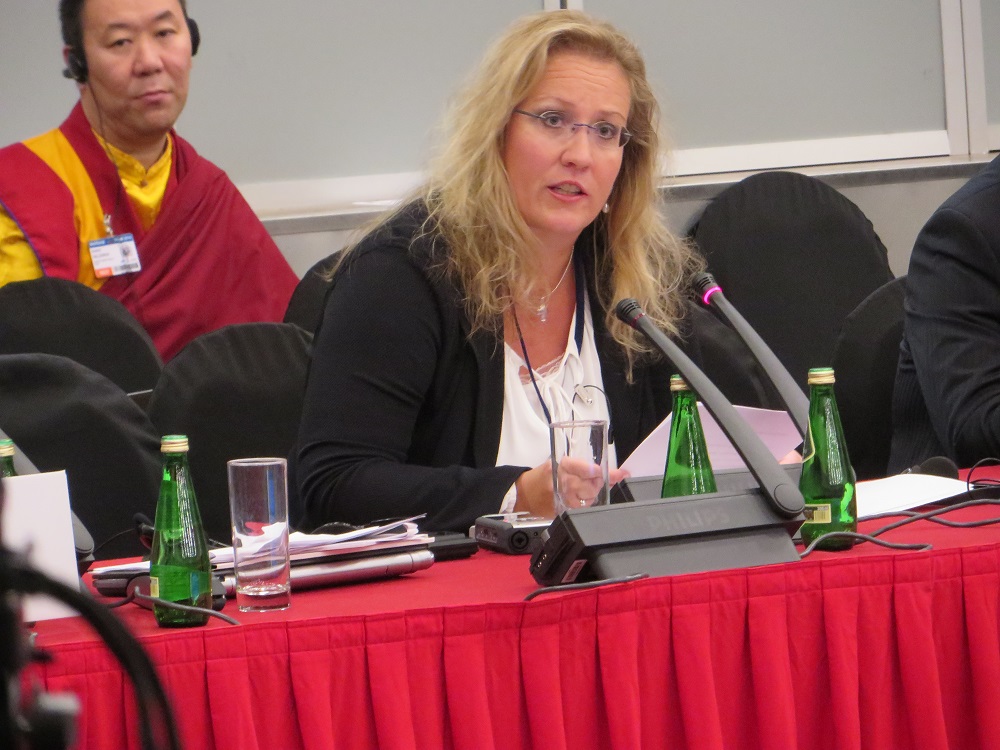 Text of Elisabeth's speech for BPE:
Statement by Bürgerbewegung Pax Europa
OSCE Human Dimension Implementation Meeting
Working Session 12
Tolerance and Non-Discrimination II
Warsaw, September 30, 2014
Dangerous trends in hate crimes against Jews & Christians
BPE welcomes with great pleasure the recent demonstration in Berlin against anti-semitism, which was graced by the presence of German Chancellor Angela Merkel. This event, which also expressed support for Israels right to defend herself against terrorist forces, marks a new high point in awareness of this rising problem. Similar manifestations in Denmark have received significant media attention, which is good.
While not nearly as bad as in many Middle Eastern countries, intolerance and harassment against Christians is a rising problem in several OSCE pS. The rising awareness of anti-semitism is good news, but similar awareness of 'Christianophobia' is needed. Intolerance of Christians on religious grounds is on the rise, and this needs countering.
Danish media are reporting that in many cases Christians of immigrant background are being persecuted and even threatened with stoning, interestingly to great extent by immigrants of Muslim background. This happens also among asylum seekers, who should be escaping persecution, not propagating it. While the situation is nothing like the catastrophic levels we are witnessing in the Middle East, it would appear that the Middle Eastern conflict patterns are being replicated in European states. This must be addressed.
It is worth noting that Islamic groups (in particular salafist) have taken upon themselves to denigrate Jews and Christians. This inter-religious tension and conflict deserves attention and action from our secular states and institutions. Identifying not only the victims of hate crimes but also their sources should be standard operating procedure.
BPE recommends:
– That statistics be made not only about the victims of hate crimes, also about the perpetrators, in order to identify if any political or religious group appears to be causing particular problems in the field, and as a basis for further legal action if this is the case.
– That OSCE pS undertake a vetting of Islamic organizations in the political sphere to ensure that they do not give rise to radical views on adherents of other religions, and in particular that their literature and other material be investigated for endorsement of such views.
– That OSCE pS call upon Islamic organizations to issue official statements that harassment of and hate crimes against Jews, Christians or other non-Muslims is against the teachings of Islam, and that such intolerance of other religions cannot be tolerated.
  Update: Elisabeth Wolff: 
[14:26:40] video has been shut down
[14:26:46] I have the shutdown on video
[14:26:58] complaining about torching of mosques
[14:27:08] Islamophobia now an "ideology"
[14:27:35] Muslims enjoy more freedom of religion than in their origin countries
[14:27:53] this has changed, security forces are cracking down
[14:28:23] essentialization of Muslims through media, political discourse, social media
[14:28:32] (don't ask me the meaning of the word essentialization)
[14:29:05] perverted images are seen in media etc.
[14:30:45]  lots of sdensationalism of Muslims in media(sound is on, BTW)
[14:31:55]"why are some young Muslim men joining Muslim organizations?"
legitimate question, should be addressed by govts and Muslims themselves
[14:33:56] halal is an important point of Muslim life, but restricted. should be addressed
[14:34:04] hate speech: increasing
[14:34:34] there should be a balanced approach to spreading of hate speech
[14:34:38] speech turns into behavior
[14:34:50] as a result, veiled women are attached in the streets
[14:35:18] legal treatment of Muslims: different policies across Europe, misrepresentation of Muslims in popular culture, film
[14:37:38] Is an idea, becoming an ideology used by uninformed politicians to gain votes
[14:37:59] this was Prof. Talib
[14:38:02]  now Bashy
[14:38:25] now Prof. Sabine Schiffer
[14:39:00] media coverage of Islam in Germany
[15:49:30] this is really rich: Prof. Senay, OSCE/ODIHR rep mocking ISIS: we should call it International Strong Ignorance Syndrome
unbelievable
[15:48:30] : how dare they
[17:31:10] Milli Görüs speaking now
[17:31:38] MBn Germany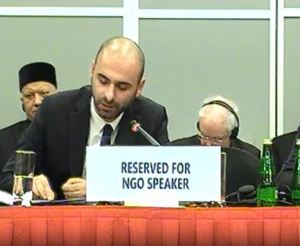 [17:32:36] so slick, complaining about mosque torching…
Stephen Coughlin and Elisabeth Sabaditsch-Wolff are next