It's how Islam has traditionally widened its borders.
This is how the Muslims -that have invaded Bethlehem over the years, turning a once full majority Christian city into a Muslim hell hole- persecute Christians, and eventually drive them out. Notice the Islamo-pirate flag of al-Qaida/ISIS.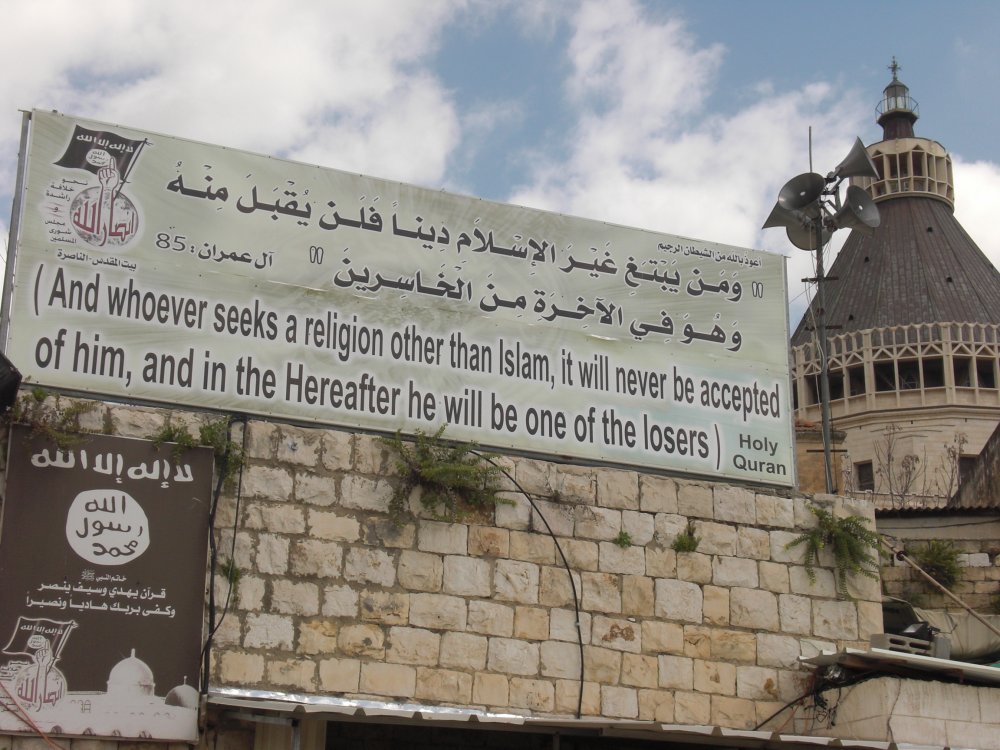 Holy Land: The Perils Facing Christians
Under dhimmi laws, non-Muslims under Muslim rule may not testify against Muslims, so it is virtually impossible for Christians whose lands have been stolen, or whose lives have been threatened, to appeal to the local legal system.

Apparently the story is only appealing when Israel can be blamed.
If you ask anyone in the Middle East the meaning of the saying, " First the Saturday people, then the Sunday people," he will answer with a smile: "First, we will get rid of those who pray on Saturday, and then we will get rid of those who pray on Sunday."
A recent survey conducted by the Jerusalem Center for Public Affairs shows that the Christian Population of Bethlehem dropped from 90% in the 19th century down to 60% in the 1990s. Today Christians make up less than 10%. What happened?
Of course, many Christians fled in the 1940s and 1960s, out of fear of the war, or as a result of intensive anti-Jewish propaganda. At that time, Christians already suffered discrimination from Muslims, and many also opposed the rebirth of the Jewish nation. Their views, apart from their faith, were more influence by the local, Arab culture, than by the European Enlightenment.
The real drop in Christian population, however, took place as a side-effect of the Oslo process. As soon as Yasser Arafat and the PLO had established the Palestinian Authority [PA] in the West Bank and Gaza, Christians began to be persecuted. Despite the official stance of public figures, such as the mayor of Bethlehem, for instance, Christian residents of the PA (among them, Hanan Ashrawi, the first elected woman in the PA), live in these Muslim-controlled areas as dhimmis: according to Muslim laws, second rate citizens, protected by Muslim authorities, as long as they accept certain rules. One of these rules forbids a Christian to sell his property, whether a shop or a house, to another Christian if he decides to move abroad. Only to Muslims. But that is just the beginning.
Another practice used by PA, especially during the Second Intifada in the early 2000s, was to enter the houses of Christians and fire across the valley at houses of Jews. What the Israeli soldiers see is just a muzzle-flash coming from a window, so they return fire and shoot back it. They do not know if it is coming from a "Muslim" window or a "Christian" window. The Christians, tired of having their apartments and houses shot into, moved out — and their neighbors moved in.