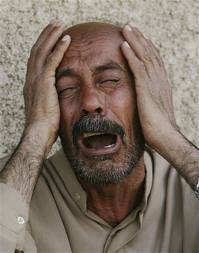 Yemen PM quits as Shiite rebels seize government HQ
Sanaa (AFP) – Shiite rebels seized the Yemeni government headquarters Sunday and the premier resigned as violence raged despite a UN announcement of a power-sharing deal to end days of fighting, officials said.
Prime Minister Mohamed Basindawa stepped aside, accusing President Abdrabuh Mansur Hadi of being "autocratic", senior officials said.
State news agency Saba reported Basindawa's resignation, but without giving the reason.
However, the council of ministers released the text of Basindawa's resignation letter.
"The partnership between myself and the president in leading the country only lasted for a short period, before it was replaced by autocracy to the extent that the government and I no longer knew anything about the military and security situation," he wrote.
Mohammed Abdulsalam, spokesman for the Ansarullah rebels, also known as Huthis, said on his Facebook page that the seat of government had been taken.
Policemen killed in blast near Egypt ministry

Forensic workers carried out investigations at the scene of the blast near the foreign ministry [Reuters]
Bombing kills two police officers in Cairo's Boulaq Abu Eila neighbourhood, interior ministry statement says.
Last updated:

22 Sep 2014 06:40
At least two Egyptian policemen were killed in a bombing outside the foreign ministry in Cairo, the interior and health ministries said, revising an earlier toll.
Nine people were wounded in the blast that targeted a police checkpoint, assistant interior minister Abdel Fattah Othman told the official MENA news agency on Sunday.
One of the officers, Mohamed Mahmud Abu Sarie, had testified in a court case on a prison break involving ousted president Mohamed Morsi in 2011, when he was an opposition leader jailed by former strongman Hosni Mubarak, a security official said.
It was unclear whether Abu Sarie had been targeted over his role in the trial.
The armed group Ajnad Misr claimed the bombing, saying it was defending "the oppressed" and was in retaliation for a government crackdown on Morsi supporters.
Teenage peace activists among dead in Libya 'black Friday'
Militants assassinate rights workers and army officers while mystery jets launch raids on Tripoli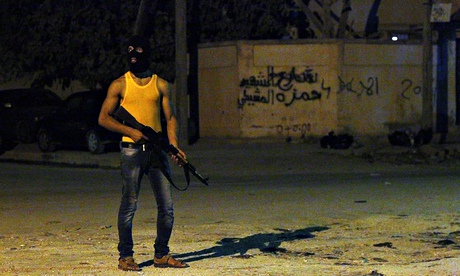 Two popular young peace activists were among ten prominent Libyan civil rights workers and senior army officers assassinated in the eastern city of Benghazi on Friday, a day that has swiftly become known as Black Friday.
The coordinated killings, a vivid demonstration of the power of militants, took place at a time when the country is in chaos: an Islamist-led coalition is holding Tripoli and the UN has reported that 250,000 have fled the fighting.
Benghazi, Libya's eastern capital, is used to violence after a four-month campaign by a former general, Khalifa Hiftar, against an Islamist militia, Ansar al-Sharia, which is blamed by Washington for the killing two years ago of their ambassador, Chris Stevens. But Friday's mass killing is unprecedented.
Militants kill four in northwest Pakistan
Militants attacked a check post in northwest Pakistan on Monday and shot dead four people including three policemen, police said. The incident happened in the town of Hangu, 120 kilometres southwest of Peshawar, the capital of Khyber Pakhtunkhwa province.
File photo illustration: Pakistani police. (AFP/Thir Khan)
PESHAWAR: Militants attacked a check post in northwest Pakistan on Monday and shot dead four people including three policemen, police said. The incident happened in the town of Hangu, 120 kilometres southwest of Peshawar, the capital of Khyber Pakhtunkhwa province.
"At least four militants riding a car stopped at a police check post and three of them opened fire killing three policemen and a passer-by," district police chief Anwar Saeed Kundi told AFP. Nobody has claimed responsibility for the attack so far but Taliban insurgents have waged war against the state in the restive northwest, targeting government installations and killing civilians and security personnel.
Separately, two soldiers were killed and another wounded by a bomb targeting a military convoy in Speenwam area on the border between North Waziristan tribal region and the town of Bannu on Saturday, security officials said.
Taliban execute school students over espionage charges in Kunar
By KHAAMA PRESS – Sat Sep 20 2014, 2:12 pm
Taliban militants executed two high school students over espionage charges in eastern Kunar province of Afghanistan.
According to local government officials, the two students were accused of spying for the central government by Taliban militants.
Deputy provincial police chief Abdul Qadir Khan Omid confirmed that Taliban militants executed two students in Nari district early Saturday.
He said Afghan forces have launched an operation to detain those involved behind the assassination of the two students.
Taliba militants group has not commented regarding the incident so far.
15 S. Sudanese killed, 40 injured in gang attacks in Egypt
September, 21, 2014 (JUBA) – Violent attacks by South Sudanese gangs on fellow youth in Egypt have resulted into 15 deaths and over 40 injury, a diplomat said in a report to lawmakers last week.
South Sudanese MPs stand during a parliamentary session in Juba on 31 August 2011 (AFP)
"We shall require millions to treat these people," said Anthony Kon.
More than 70 criminal cases involving South Sudanese nationals have reportedly been filed at various police stations in Egypt.
Kon said the gangs mainly consisted of poor South Sudanese youth facing economic hardships after refusal to return to the country after its independence in 2011.
"These gangs are mainly uneducated and poor South Sudanese men between age 16 and 35; today their numbers range from 500 and above and they are based in Maadi, Ain Shams, Nasr City, Hai Alshara, Al Zeytoon and Abbaseya districts of Egypt," he said.
Kon cited an incident in which five South Sudanese gangs attacked a Ugandan embassy official in Cairo. The case, he said, was filed at Maadi police station.
Afghan Policemen Killed in Taliban Attack in Laghman
Saturday, 20 September 2014 09:07
Last Updated on Saturday, 20 September 2014 12:37
Four policemen were killed in a Taliban insurgents attack on a police outpost in eastern Laghman province on Friday night, local officials said on Saturday.
Six other policemen were injured in the attack.
The incident took place last night when a number of Taliban insurgents attacked a police outpost in Hakim area of Laghman city, the Provincial Governor Media Office said in a statement.
Five Taliban insurgents including two suicide bombers were killed in the attack and six other insurgents were injured, it said.
The Taliban insurgents have not yet commented about the attack.
Suicide bomber kills 3 at checkpoint in Lebanon
BEIRUT – A suicide car bomber reportedly killed three people at a checkpoint manned by the Shiite Hezbollah militia in eastern Lebanon Saturday evening, the state-run news agency reported, as the war in Syria spilled over into its eastern neighbor.
However, a Hezbollah-run TV station reported later that the suicide bomber did not kill anyone at the checkpoint. There was no immediate way to reconcile the contradictory reports.
Hours before the suicide bombing, the family of a Lebanese soldier held captive by militants in Syria said their son had been killed, and a video posted on show media networks appeared to show the man being shot to death.
The suicide car bomber detonated his explosives-rigged vehicle at the checkpoint about 3 miles (4.8 kilometers) from the Syria border near the town of Khreibeh, Lebanon's National News Agency said.