The following op-ed by Sanna Haikala-Reyes was published by the JPost, in today's edition of the paper.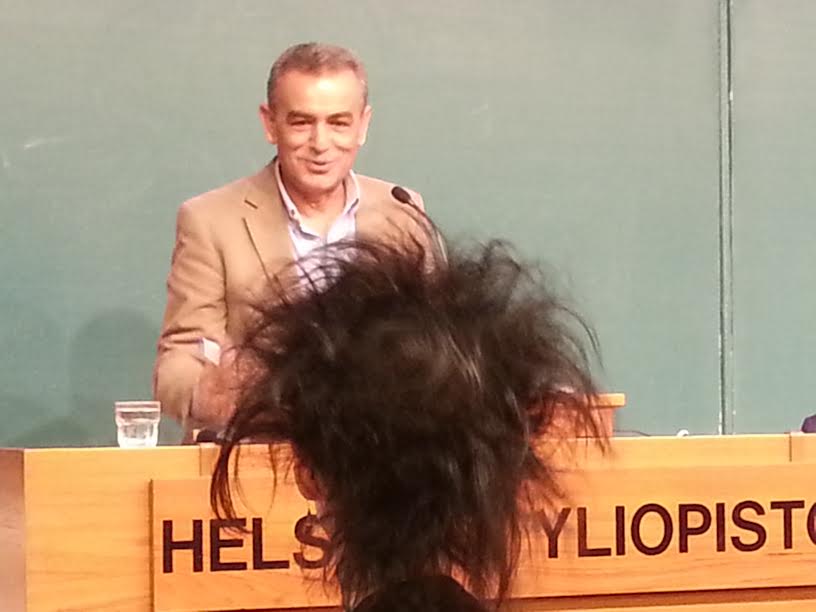 Arab Knesset members' anti-Israel rhetoric
I had the chance to witness an interesting event on September 8 at the university of Helsinki, Finland. A member of the Knesset, Jamal Zahalka, was speaking about the situation in Gaza. Together with him was Amira Hass, an Israeli Jewish journalist who started her speech by stating that she is "an honorary Gazan."
Zahalka, although speaking in an event that was titled "Peace forum," and despite himself being a member of the Israeli parliament, concentrated in his speech on demonizing Israel and ensuring that his audience would, by end the night, be hating Israel.
When someone asked him whether Israel was an apartheid state, he responded, "No, but it's from the same family." Then he began describing how Israel is much like apartheid – but apparently worse. He said, "We [Israeli Arabs] would actually prefer apartheid. Give us apartheid! At least we would then be allowed to stay in our homes."
I couldn't stop thinking of how my South African friends who survived the real apartheid would react upon hearing an Arab member of the Israeli parliament explaining to a group of Europeans how he would prefer apartheid to the current situation in which he is not only allowed to vote but is actually a member of the government.
Zahalka also kept on speaking about Israeli violence against Palestinians, refusing to talk about Hamas terrorism beyond calling it a "struggle for a just cause."
He asked people whose side they were on: that of the pilot who about to fire a missile into a Gaza building, or that of a baby inside that building. When asked how about the Gazans who demonstrate against Hamas's policies, demanding peace, and who are executed by Hamas as a result, Zahalka simply repeated that Israel kills Palestinian children.
As if all of that wasn't enough, Zahalka demanded that Prime Minister Binyamin Netanyahu be prosecuted at the International Criminal Court for his "crimes" against the Palestinians. Hass, on the other hand, explained to the audience that "there is not a single Palestinian who has not been hurt by Israel, and who would not be threatened by Israeli policies."