Just a little dab will do you ya!
The more one is in contact with his/her inner mohamed, the more likely they'll turn out like Sally Jones.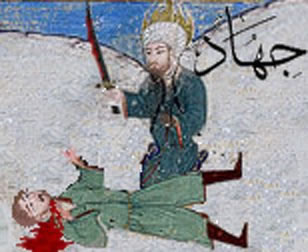 Revealed: How Sally Jones of Chatham went from being all-girl rock band member to 'wife of ISIS jihadi fanatic who threatens to behead Christians by herself with a blunt knife' 
 Muslim convert who went to Syria may be Sally Jones from Chatham
 It is believed she could be going by the name Umm Hussain al-Britani
 Umm Hussain has claimed she married British jihadi Junaid Hussain
 The pair had an online romance before travelling separately to Syria
 Both have since posted up a series of threats to kill Christians 
A middle-aged British mother-of-two has joined Islamic State extremists after running away to wage jihad with her toyboy husband.
Muslim convert Sally Jones, 45 –who has spent a lifetime on state benefits – ranted online about how she wants to behead Christians with a 'blunt knife'.
The unemployed mother, who was once an aspiring rock musician, claims to have joined bloodthirsty jihadis roaming the lawless border between Syria and Iraq.
Chaotic lifestyle: Mother-of-two Sally Jones – who has spent a lifetime on state benefits – before she left Britain to marry a British hacker turned jihadi who she met online
A video posted on YouTube, and then deleted, is believed to show Sally Jones playing in a rock band in the early 1990s. It is thought Jones may have converted to Islam and travelled to Syria
On an account attributed to Umm Hussain al-Britani, this pictured was posted showing a female fighter holding an AK-47
She is believed to have abandoned her two young sons to marry one of the   British suspects in the beheading of  US journalist James Foley.
Jones, who now calls herself Sakinah Hussain, wears traditional Islamic dress and has swapped her home in Chatham, Kent, for Raqqa, the Syrian stronghold of terror group IS.
Last night her brother Patrick, 52, who runs his own paving company, said his family are deeply shocked by her conversion to radical Islam.