Muslim slavery back in action.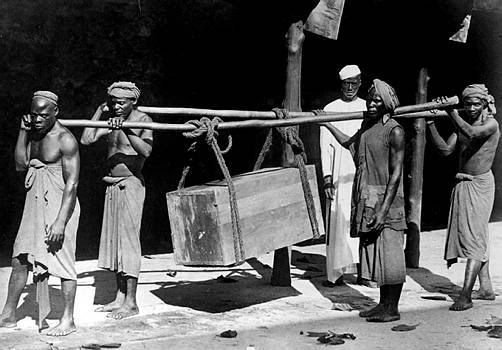 'Black' refugees become Libyan militia slaves to carry arms
Habeshia director calls for intervention from Italy, EU, UN
(ANSAmed) – ROME – Sub-Saharan refugees are increasingly being taken hostage by militias involved in fighting in the country and are forced to carry weapons, munitions, and supplies to the front line, Habeshia director of Eritrean origins Don Mussie Zerai said on Wednesday.
The organization has for years been working with refugees, migrants, and the victims of human trafficking that reach the Mediterranean coast after a journey across Africa. According to a statement released by Don Zerai, those potentially vulnerable include "all black Africans trapped in the war that is tearing the country apart: Eritreans, Somalis, Ethiopians, Sudanese, Malians…anyone from the Horn of Africa and Sub-Saharan Africa."
Habeshia underscored that it had denounced the trend to the international community in late July and early August, requesting urgent intervention from the UN, the EU and the US, but to no avail. It has now also called directly on Italy, the only European country that still has an embassy in Tripoli and signatory of numerous agreements on immigration control under the Gaddafi regime and the rulers that followed.
More here. H/T: Baron Bodissey