About their 'special relationship' with the Muslim Brotherhood.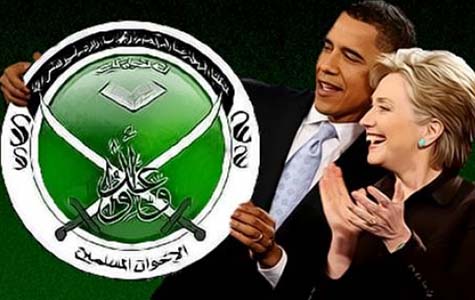 Morsi's wife threatens to publish letters from Hillary Clinton, exposing "special relationship" between Muslim Brotherhood and Obama Administration
The wife of former Egyptian president Muhammad Morsi is the latest Muslim Brotherhood "insider" to threaten to expose the special relationship between Morsi and the Obama administration—a relationship the latter insists never existed.
Nagla Mahmoud, Morsi's wife, is reportedly angry at some statements recently made by Hillary Clinton, including that Morsi was "naïve" and "unfit for Egypt's presidency," asreported by Arabic media.
In the words of El-Mogaz News, Morsi's wife "is threatening to expose the special relationship between her husband and Hillary Clinton, after the latter attacked the ousted [president], calling him a simpleton who was unfit for the presidency.  Sources close to Nagla confirmed that she has threatened to publish the letters exchanged between Morsi and Hillary."
The report continues by saying that Nagla accuses Hillary of denouncing her former close ally, the Brotherhood's Morsi, in an effort to foster better relations with his successor, Egypt's current president, Sisi—even though, as Nagla laments, "he [Morsi] was faithful to the American administration."
Earlier, the son of Khairat al-Shatter—another top ranking Brotherhood member who was arrested during the June 2013 revolution that ousted Morsi—made similar assertions, threatening to expose documents that would "undermine his [U.S. president Obama's] political future and land him in prison."