.
Trying to outlast the Shiite Heznazis's 33 day war with the Jewish state.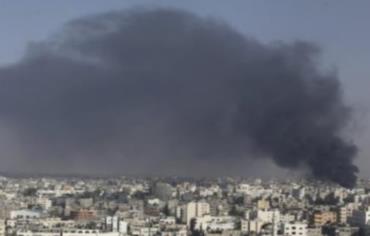 Breaking News 11:56 6 rockets explode in Sdot
JPost.com
Operation Protective Edge

IAF jets strike terrorist targets in Gaza following renewed rocket fire
By JPOST.COM STAFF
08/08/2014 10:58
Netanyahu orders IDF to respond forcefully to Hamas rocket attacks after the organization renews fighting because its demands were not met; Army states its troops remain massed on Gaza border.
Smoke rises following what witnesses said was an IAF air strike in the east of Gaza City. Photo: REUTERS
The IDF renewed strikes on Hamas targets in the Gaza Strip shortly before 11:00 a.m. on Friday morning. The strikes come as retaliation for Hamas rocket attacks on southern Israel which broke the relative quiet of a three-day truce after it expired earlier on Friday morning.
Prime Minister Binyamin Netanyahu and Defense Minister Moshe Ya'alon instructed the IDF Friday morning to respond forcefully against renewed Hamas rocket fire, senior diplomatic officials said
Related:
Security sources: Israel to respond with force if Hamas resumes rocket fire
The Army also stated that Israeli forces remain amassed on the Gaza border. The IDF pulled its troops out of the Gaza Strip shortly before the Cairo-brokered cease-fire was announced on Tuesday morning.
Jerusalem had hoped Hamas would agree to another 72-hour extension to allow time for Israeli and Palestinian negotiating teams in Cairo to come to an agreement that would end Operation Protective Edge, which has now entered its 32nd day.