Disgusting but highly predictable.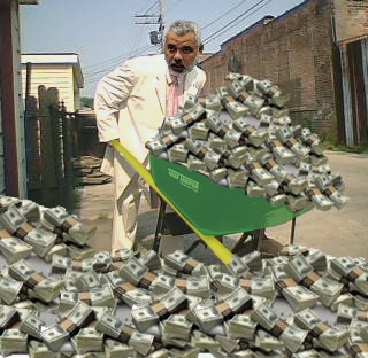 Hamas Officials Get Rich in Gaza
Hamas – ruled Gaza may have little economy to speak of – at least for the man on the street.
Published: July 13th, 2014
The Gaza Strip may be renowned as one of the poorest strips of land on earth – the Strip's per capita GDP of $3100 per annum puts Gaza in 171st place out of 226 countries, and unemployment hangs steadily around 40 percent – but the economic crunch hasn't hit everybody in the region.
According to a report released Sunday on the Globes website, the Hamas government takes a standard 20 percent "tax" on goods that enter Gaza via the smuggling tunnels. Unfortunately, the government cut of the imports have failed to reach most Gazans, but a certain proportion of Gaza residents have capitalized on the opportunities over the past decade to have become multi-millionaires: The senior Hamas leadership.
According to the Globes,the big winner out of Hamas' eight-year rule of Gaza is none other than Prime Minister Ismail Haniyeh, a native opt the Sha'athi refugee camp and former right-hand man to Hamas founder Sheikh Ahmed Yassin.
But in contrast to most refugee families, in 2010 Haniyeh reportedly purchased a 2,500 square meter plot of land in Gaza City for $4 million. Globes reported that in order not to draw attention to the purchase, he registered the land in the name of his daughter, Nabil. Since then, he has continued purchasing real estate, under the names of his 13 children.