.
Time for Israel to slam Obama's pal.
Erdogan Slams Israeli 'Lies' Over Hamas Aggression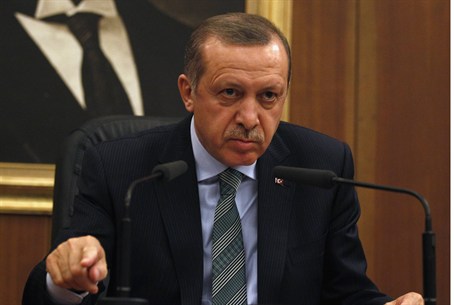 Turkish Prime Minister calls Israel 'cruel' in anti-Semitic tirade, hours after threaten to stop the normalization process.
, Yesterday, 6:21 P
Turkish Prime Minister Recep Tayyip Erdogan accused Israel of a policy "based on lies" on Friday, as he fumed over Operation Protective Edge, in his latest vehement criticism of the Jewish state.
"They are not honest… We cannot take the side of the cruel," Erdogan told supporters in Istanbul, noting that 100 Palestinians had now been killed while no lives had been lost in Israel. "  
"They say (Hamas) is firing rockets. But is there anybody who died?" he asked. "The number of Palestinians that you (Israel) killed is now 100. Their (Israel's) life is based on lies."
Hours earlier, Erdogan threatened to sever the normalization process with Israel over the operation, which aims to protect the 3.5 million Israeli citizens now estimated to be in the line of Hamas's rocket fire,
"You will first stop this oppression. If not, it is not possible to realize normalization between Turkey and Israel," Erdogan said.
The statement surfaces despite efforts to ease strain between Israel and Turkey, in light of the Mavi Marmara incident of 2010.