Mooch's husband unavailable for comment.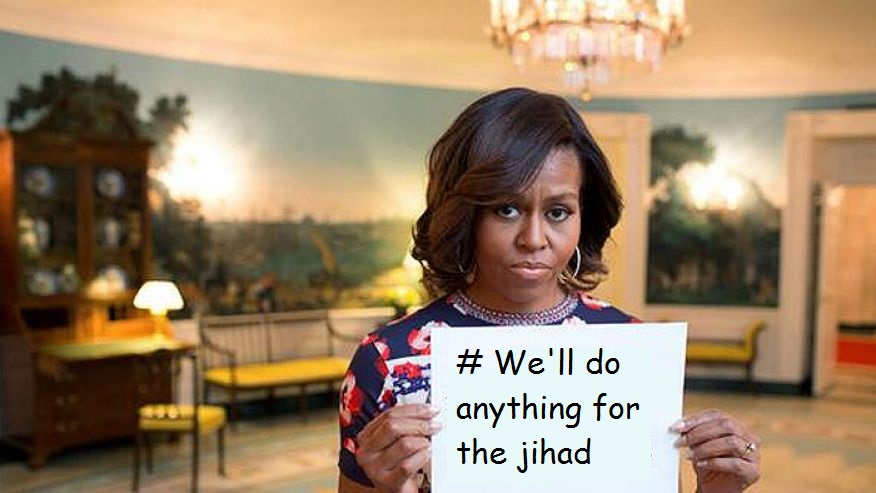 OBAMA FUNDS KIDNAPPERS OF AMERICAN CITIZEN NAFTALI FRANKEL
On Friday, State Department Deputy Spokesperson Marie Harf said the United States was "very concerned" about the kidnapping of three Israeli boys, including American citizen Naftali Frankel, 16, by terrorist group Hamas. "We are working with the government of Israel and with the Palestinian Authority to try to ensure the situation is resolved quickly, and that the three teenagers are safely reunited with their families."
Harf maintained that the "Israelis and the Palestinian Authority are working closely together" and that the United States was "giving this cooperation our full encouragement." Harf said that the State Department would not say whether an American citizen was among the kidnapped.
There is no such cooperation. As Prime Minister Benjamin Netanyahu explained, "Israel warned the international community about the dangers of endorsing the Fatah-Hamas unity pact. The dangers of that pact should now be abundantly clear."
The sad truth is that the United States is funding the kidnappers of these boys, including an American citizen. It is currently illegal to fund any organization connected with Hamas. Nonetheless, the Obama administration is doing it after the formation of a unity government between the Palestinian Authority and Hamas; $400 million American taxpayer dollars will go to that entity in violation of law. 18 US Code Section 2339Bdemands:
Whoever knowingly provides material support or resources to a foreign terrorist organization, or attempts or conspires to do so, shall be fined under this title or imprisoned not more than 15 years, or both, and, if the death of any person results, shall be imprisoned for any term of years or for life. To violate this paragraph, a person must have knowledge that the organization is a designated terrorist organization (as defined in subsection (g)(6)), that the organization has engaged or engages in terrorist activity (as defined in section 212(a)(3)(B) of the Immigration and Nationality Act), or that the organization has engaged or engages in terrorism (as defined in section 140(d)(2) of the Foreign Relations Authorization Act, Fiscal Years 1988 and 1989).