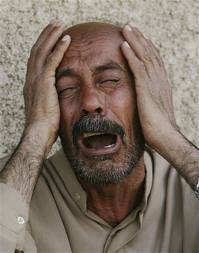 Egypt policeman killed in clashes with Islamists
CAIRO — Clashes between Egyptian security forces and Islamist supporters of deposed President Mohammed Morsi on Monday left one policeman dead in southern Cairo, the Interior Ministry said in a statement.
The ministry said that security forces clashed with followers of Morsi's Muslim Brotherhood group who it alleged were involved in violence, sabotage and attacks against police. It said in a statement that five of the group's supporters were arrested near a suburb called May 15.
Egypt has waged a heavy crackdown on Morsi's supporters since the military overthrew him last summer after millions marched to demand his ouster. Hundreds were killed and thousands jailed, and top Brotherhood leaders now face multiple charges. Islamic militants, meanwhile, have targeted the police and military with bombings and suicide attacks.
Egyptian authorities branded the Brotherhood a terrorist organization last year. The group denies it adopts violence and has kept up its protests against the current authorities.
The government stepped up its confiscation of the group's assets on Sunday, with police seizing a number of supermarket chains in Cairo and its twin city of Giza that are owned by a deputy Brotherhood leader and a wealthy businessman who allegedly supports the group.
Thirty dead in Syria barrel bomb attacks in Aleppo 
June 16, 2014 01:52 PM (Last updated: June 16, 2014 04:40 PM)
Rescuers carry a body after Syrian regime helicopters allegedly dropped barrel bombs on the Sukkari neighborhood, an opposition-held district in the northern Syrian city of Aleppo, on June 16, 2014. AFP PHOTO/BARAA AL-HALABI
BEIRUT: Syrian regime helicopters dropped barrel bombs Monday on opposition-held districts in the northern city of Aleppo, killing at least 30 people including several children, an activist group said.
The Syrian Observatory for Human Rights said that a number of people were injured, some of them seriously, in the attacks on the Sukkari and Ashrafiyeh neighborhoods.
The group distributed gruesome images from the scene of the attacks on Sukkari, where 24 people were killed, showing residents holding body parts of victims from the raid.
Observatory director Rami Abdel Rahman said that a first attack created chaos, with residents and medics rushing to the scene to help.
Several minutes after the first attack, a second bomb was dropped on the same site, with those there trying to flee but many failing to do so in time.
Another six people died in a separate barrel bomb attack in a rebel-held area in Ashrafiyeh neighborhood, in the north of the city.
48 Kenyans dead: Witness: Gunmen spared Muslims
NAIROBI, Kenya (AP) — Dozens of extremists attacked a Kenyan coastal town for hours, killing those who couldn't answer questions about Islam and those who didn't know the Somali language, officials and witnesses said Monday. At least 48 people were killed and two hotels were set on fire.
The assault in Mpeketoni began Sunday night as residents watched World Cup matches on TV and lasted until early Monday, with little resistance put up by Kenya's security forces. Cars and buildings still smoldered at daybreak.
Authorities blamed al-Shabab, Somalia's al-Qaida-linked terror group, who have vowed to carry out terror attacks to avenge the Kenyan military presence in Somali. Along with its Somali fighters, the group also has many Kenyan adherents.
Like the gunmen who attacked Nairobi's Westgate Mall last year, the Mpeketoni attackers gave life-or-death religious tests, a witness said, killing those who were not Muslim.
"They came to our house at around 8 p.m. and asked us in Swahili whether we were Muslims. My husband told them we were Christians and they shot him in the head and chest," said Anne Gathigi.
Another resident, John Waweru, said his two brothers were killed because the attackers did not like that the brothers did not speak Somali.
People gather around a bus after it was attacked by gunmen in Yemen's southern port city of Aden June 15, 2014. ― Reuters pic
YEMEN, June 16 ― Seven medics and nurses were killed in a bus attack early yesterday while travelling to the Basaheeb military hospital from the southern Yemeni city of Aden.
As the bus slowed down at a ramp in Aden's commercial district Sayla, witnesses reported seeing masked gunmen opening fire at the vehicle before fleeing the scene in a car. A woman was among the seven killed. Eleven others were injured in the shooting.
"I haven't seen anything scarier than this. The gunmen came out suddenly and opened fire," said Mohammed Saleh, a civilian witness at the scene.
Attacks against Yemen's security forces have increased after the government launched a campaign in late April to oust al Qaeda militants from strongholds in southern Yemen. ― Reuters
29 killed, scores injured in S. Sudan tribal clashes
South Sudan slid into chaos late last year when President Salva Kiir accused a group of army leaders allied to sacked vice president Riek Machar of attempting a coup against his government.
World Bulletin / News Desk
At least 29 people were killed and 100 others injured in two separate clashes in South Sudan, according to official accounts on Sunday.
Twenty-five people were killed and 100 injured during clashes between two tribes in a Rumbek County of central Lakes State, the latter's Governor Matur Chut Dhuol told Anadolu Agency.
Dhuol said that provincial authorities sent a number of dignitaries after security forces failed to reach the troubled area.
One tribe has attacked the other in retaliation for clashes which have erupted last April, Dhuol added.
Earlier, at least four were killed in clashes which erupted after an Arab tribe attacked a tribe in the disputed Abyei region with Sudan and stole 66 cattle, the non-Arab tribal leader Sultan Belbek Deng Kuol told Anadolu Agency on Sunday.
Renegade general launches offensive in east Libya, up to 12 killed
BENGHAZI/TRIPOLI Libya Mon Jun 16, 2014 2:34pm BST
(Reuters) – A renegade Libyan general launched a fresh offensive on Sunday against Islamist militants in the eastern city of Benghazi, sparking some of the worst fighting in weeks, with up to 12 people killed and power supplies disrupted.
Libyan authorities are struggling to restore order across the vast desert nation ahead of a June 25 parliamentary election. The situation remains especially chaotic in Benghazi, Libya's second-largest city and cradle of the NATO-backed uprising that toppled Muammar Gaddafi three years ago.
Retired General Khalifa Haftar has declared war against militants in Benghazi and several army units have joined him. The Tripoli government says he has no authority to act but its orders are routinely ignored in much of the country, especially in the east, as rival militias and tribal groups vie for control.
Haftar's troops, backed by tanks and rocket launchers, attacked several suspected camps of Islamists in western areas of Benghazi on Sunday, forcing dozens of families to flee. War planes could also be heard circling above the city.