---
Obama is more than likely thrilled at his pal's successes.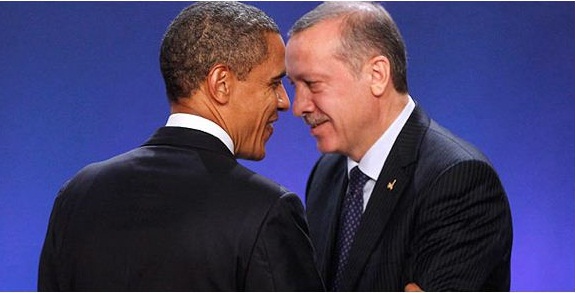 Turkey, Iran to sign political, economic agreements
ANKARA
Iranian President Hassan Rouhani waves as he arrives to deliver a speech during a ceremony marking the 25th death anniversary of Ayatollah Khomeini, the founder of the Islamic Republic, at his shrine just outside Tehran, Iran, Tuesday, June 3, 2014. AP Photo
Turkey and Iran will sign at least six new agreements when Iranian President Hasan Rouhani conducts his first visit to Turkey on June 9 with the goal of enhancing political, economic and cultural relations between the two neighbors.

Coming to Turkey upon President Abdullah Gül's invitation, Rouhani's visit to Turkey is the first official one since Ali Akbar Hashimi Rafsanjani's presidential trip to Ankara in 1996.  

Although the program has not yet been finalized, Rouhani will hold bilateral talks with Gül and Prime Minister Recep Tayyip Erdoğan and will be hosted by both Turkish officials over dinner and lunch. 

Rouhani and Erdoğan will co-chair the High-Level Strategic Cooperation Council meeting with the participation of several ministers from both sides. With a target of increasing the trade volume to $30 billion, the two countries are planning to intensify cooperation in energy, transportation, tourism, industry and other areas. 

According to diplomatic sources, the two countries will sign at least six agreements on June 9 in the fields of economy, politics and culture.   

Apart from bilateral issues, Turkish officials will also discuss regional issues with Rouhani. Syria is going to be one of the most important topics to be raised, together with developments in Iraq. Turkey and Iran have long been on different pages on the Syrian issue, with the latter notable for being one of the most important supporters of the Bashar al-Assad government in Syria whereas Turkey has actively pushed for al-Assad's overthrow.

Erdoğan and Rouhani had discussed the matter in January during the Turkish prime minister's visit to Tehran, but both countries have stood loyal to their positions with regard to Syria.