Norway races itself around the drain.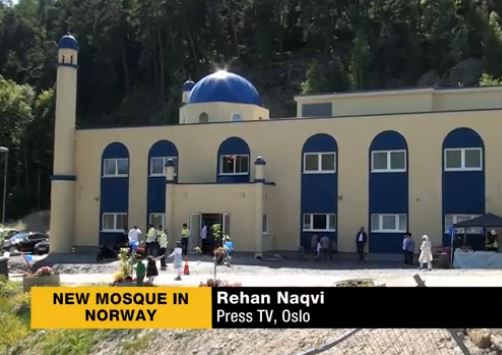 New mosque in Norway opens doors to all
Mon Jun 2, 2014 9:46AM GMT
In the Norwegian capital Oslo, a new mosque has opened its doors to all. The opening ceremony marked the presence of Shia and Sunni Muslims along with Christians. The mosque's management aspires to make it a bridge between different communities there. Our correspondent Rehan Naqvi reports from Oslo.
Oslo's newest mosque has just been inaugurated. 'Tauheed' is Norway's first mosque built by Shia Muslims. The opening ceremony was attended by representatives from various Muslim organizations, several European countries, Iran and the Norwegian Norway's Muslim population is about a Hundred and Fifty Thousand, of which the majority lives in the greater Oslo area. There are four purpose-built mosques in the city centre within an area of less than a square mile. So the new trend is to build mosques on the suburbs of Oslo.
This is the first mosque in this outskirt of Oslo where thousands of Muslims live. Although it is built and administered by Shia Muslims, the mosque's management says it is by no means meant to be exclusively for Shia Muslims and it is a home for all Muslims. Hassan Rizvi is the leader of Tauheed Youth. He emphasized on the aspiration to make the mosque a bridge between different communities. At the same time, the local Church priests found it important to be part of the opening ceremony.
With a large and growing Muslim population and few purpose-built mosques, one can expect to see more mosques being built in the Oslo area in the future.
More here. H/T: Holger Danske