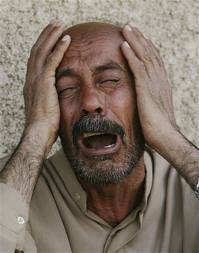 Al Qaeda group kills Defense Ministry aide in latest Yemen attacks
More than 20 people have been killed in clashes in Yemen. The latest fighting came as the country's army had taken the offensive against al Qaeda-linked groups.
The fighting in the Gol al-Rayda and Azan districts of Shabwa province started early Wednesday morning and continued for hours, leaving 10 soldiers and 13 attackers dead. Military losses included General Mohsen Saeed al-Ghazali, an aide to Defense Minister Mohammed Nasser Ahmad, who just days ago survived an ambush while returning from an area in the south which the army has attempted to clear of al Qaeda elements.
Earlier this month, Yemen's army captured key districts in Abyan province. After that, many of the fighters, from al Qaeda in the Arabian Peninsula (AQAP) and its affiliate Ansar al-Sharia, fled to the mountains and turned to hit-and-run tactics against security forces and government facilities across the country.
File photo
Gunmen kill Egyptian national in Libya
Egyptian worker shot dead in Libyan city of Benghazi, the latest in a series of such killings in recent months
Ahram Online, Wednesday 14 May 2014
Gunmen killed an Egyptian in Libya's eastern city of Benghazi on Tuesday, a medic said.
Ali Mohamed Hassan, a worker, was shot dead by unknown assailants in the city, the source told the independent Al-Wasat news website, adding that a post-mortem examination of the body was under way.
Egyptian authorities have repeatedly voiced alarm over violence against its citizens in Libya and warned against travelling to the North African nation amid an upsurge in militant attacks since the 2011 revolution that ousted autocrat Muammar Gaddafi.
Hundreds of thousands of Egyptians work in Libya, mostly as labourers, but the number has sharply diminished three years after the uprising.
Egypt: One Morsi supporter killed in Cairo clashes
The Islamists are expected to step up their protests ahead of a presidential election called for May 26-27. (AFP/File)
One person was killed on Wednesday evening during clashes in Cairo between supporters and opponents of former president Mohamed Morsi, Egyptian security officials reported Thursday.
The clash, which broke out on the sidelines of a pro-Morsi protest, also resulted in four people being arrested, according to the officals.
Following Morsi's removal from office, his loyalists have been holding weekly protests calling for him to be reinstated. These demonstrations often turn violent with the state security forces being pitted against civilians as the police attempt to crack down on members of the Muslim Brotherhood, Morsi's Islamist group.
Attacks around Iraq's capital kill 29 people
BAGHDAD (AP) – Bombings and shootings around Iraq's capital, including an attack involving militants using a fake checkpoint to kill army officers, killed at least 29 people and wounded dozens Thursday, officials said.
Police said gunmen shot dead the five off-duty army officers after stopping their car on a road just north of Baghdad. They said gunmen ordered the officers, who held ranks from lieutenant to colonel, out of the car and then shot them.
43 killed in bombings near Syria-Turkey border
Posted: Friday, May 16, 2014 12:54 am
BEIRUT (AP) — A massive car bomb ripped through a crowded garage Thursday near a rebel-held border crossing between Syria and Turkey, killing at least 43 people in an area that has seen fierce fighting between rival rebel groups, an anti-government activist group said.
The attack came as President Bashar Assad's forces have seized the momentum of the country's 3-year-old civil war ahead of presidential elections scheduled for June 3.
The Britain-based Syrian Observatory for Human Rights said the blast killed 43 people and wounded more than 80. Injured Syrians who were taken to hospitals in Turkey and later died are among the 43 killed, said Rami Abdurrahman, the head of the Observatory.
The group relies on a network of activists on the ground.
The Local Coordination Committees, another activist group, also reported the car bombing but said only that it killed and wounded "dozens of people."
Car bombings have become common in Syria as the influence of Islamic extremist groups has risen, dampening the support of the U.S. and its European allies for the opposition seeking to oust Assad.
Opposition activists have blamed al-Qaida-linked fighters, who are engaged in deadly fighting between rival rebel factions in Syria, although no group claimed responsibility for Thursday's blast.
British-born man arrested in Sudan after bomb blasts killed 105 in Nigeria
Former Nigerian soldier Aminu Sadiq Ogwuche suspected of being a ringleader of Islamist militants Boko Haram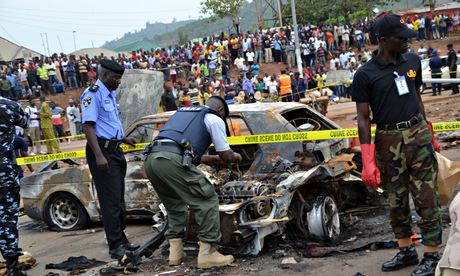 A British-born citizen who once served in the Nigerian army has been arrested on suspicion of being a ringleader of the Islamist militants who killed 105 people in two bomb blasts in Nigeria last month.
Aminu Sadiq Ogwuche, in his 30s, was arrested this week in Sudan after Interpol issued an international arrest warrant for the former lance corporal who is believed to have played a key part in the Boko Harambomb attacks.
The group, which bombed the capital, Abuja, last month with rush-hour devices in the packed suburb of Nyanya, is the same one behind the abduction of 300 schoolgirls in a remote village in the country.
Ogwuche, in his 30s, is being detained ahead of his extradition to Nigeria from Sudan's capital, of Khartoum, where he was studying Arabic at the International University of Africa.