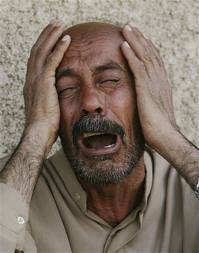 Yemen drone strike 'kills al-Qaeda militants' in east
At least six suspected al-Qaeda militants have been killed in a drone strike in eastern Yemen, reports say.
The drone reportedly destroyed the car in which they were travelling in the Wadi Abida district of Maarib province.
State media and local tribal sources said they were members of al-Qaeda in the Arabian Peninsula (AQAP).
The strike comes as the Yemeni army continues a major offensive against strongholds of AQAP and its allies in two provinces in the south.
It says it has inflicted heavy losses on the militants, killing dozens of leaders – most of them foreigners – and capturing weapons.
The army regained control of several major towns in Shabwa and Abyan provinces during a similar campaign in 2012, but AQAP members were able to retreat to remote rural areas and regroup.
Remembering Camille Lepage, Photojournalist Killed in Africa
May 13, 2014 7:11pm
French journalist Camille Lepage is seen in this picture taken in Bangui, Central African Republic on Feb. 19, 2014. (Fred Dufour/AFP/Getty Images)
The French government has confirmed the death of Camille Lepage, a 26-year -old photojournalist working in the Central African Republic. The country is wracked with political instability,  resulting in widespread violence, internal displacement and sectarian tension. Her body was found by French peacekeeping troops on May 13, 2014.
"Everything will be done to uncover the circumstances of this assassination and to track down who murdered our compatriot," read the statement from President François Hollande's office.
She had previously worked in South Sudan, where she moved in 2012. Below is a selection of her work.
Dozens killed in Iraqi car bombings on Shiite holiday
BAGHDAD // Militants unleashed a wave of car bombings in Iraqon Tuesday, killing at least 34 people and sending thick, black smoke into the Baghdad skies in a show of force meant to intimidate the majority Shiites as they marked what is meant to be a joyous holiday for their sect.
The attacks came nearly two weeks after Iraqis cast ballots in the country's first parliamentary election since the US military withdrawal in 2011. No preliminary results have yet been released, deepening a sense of uncertainty in a country strained by a resurgence of violence.
It was the deadliest day in Iraq since April 28, when militant strikes on polling stations and other targets killed 46. No group immediately claimed responsibility for the attacks, most of which hit Baghdad during rush hour, but they were most likely the work of the Al Qaeda offshoot known as the Islamic State in Iraq and the Levant.
Two Brits dead after battle between rival jihadist groups in Syria
The men were fighting for The Islamic State in Iraq and the Levant (ISIS), a group active in Iraq and Syria, against Jabhat al-Nusra
One Brit has been killed by a suicide bomber whilst a second died from gunshot wounds during a fierce battle between two rival jihadist groups in Syria.
The Britons were fighting for The Islamic State in Iraq and the Levant (ISIS), a jihadist group active in Iraq and Syria.
Shiraz Maher, senior fellow at the International Centre for the Study of Radicalisation (ICSR) at King's College London, told the Mirror: "It appears two British citizens have died in Syria while fighting for ISIS. They were fighting Jabhat al-Nusra at the time.
"We understand that one was killed by a suicide bomber whilst the second man was killed in a shoot-out between the two groups.
Infighting Leaves Five Pakistani Militants Dead
At least five militants died during a shootout between rival factions in a restive Pakistani tribal region near the Afghan border Tuesday, militant and intelligence sources said.
Supporters of Tehreek-e-Taliban commander Khan Said Sajna and followers of the late TTP leader Hakimullah Mehsud clashed in the Shawal area of the troubled North Waziristan district, a security official told Agence France Presse.
"Two militants from Sajna and three from Hakimullah Mehsud group have been killed in the exchange of fire between the two factions. Three other people have been injured," an intelligence official told AFP.
Sources in the rival militant groups also confirmed the attack.
"The fight was temporarily halted after local elders asked the two groups for a ceasefire to take out the dead bodies and rescue the injured," a militant source said.
Infighting between different Taliban factions has killed dozens of people in the area in recent weeks.
The latest attack comes weeks after the Pakistani Taliban formally ended a ceasefire called to promote talks with the government. These negotiations were aimed at ending the militants' bloody seven-year insurgency.