The Obamination is on the wrong side of everything.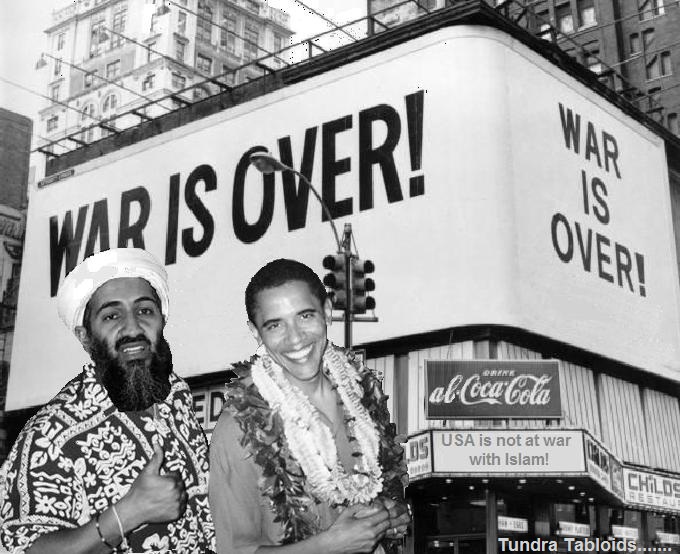 That same day, NATO air and sea forces went to war to defeat the anti-al-Qaida Qaddafi and bring victory to Libya's al-Qaida-linked rebels. Uncle Sam, as I've often written since, joined the jihad.
Did US Choose War over Qaddafi's Abdication?
Written by: Diana West 
Friday, April 25, 2014 3:59 AM
DVIDS/US Navy photo by Fireman Roderick Eubanks: Arleigh Burke-class guided-missile destroyer USS Barry launches a Tomahawk missile in support of Operation Odyssey Dawn on March 19, 2011. This was one of approximately 110 cruise missiles fired from U.S. and British ships and submarines that targeted about 20 radar and anti-aircraft sites along Libya's Mediterranean coast.
This week's syndicated column
More than Benghazi skeletons should haunt Hillary Clinton's expected 2016 presidential bid. It now seems that the entire war in Libya — where thousands died in a civil war in which no U.S. interest was at stake — might well have been averted on her watch and, of course, that of President Obama's. How? In March 2011, immediately after NATO's punishing bombing campaign began, Muammar Qaddafi was "ready to step aside," says retired Rear Admiral Charles R. Kubic, U.S. Navy. "He was willing to go into exile and was willing to end the hostilities."
What happened? According to Kubic, the Obama administration chose to continue the war without permitting a peace parley to go forward.
Kubic made these extremely incendiary charges against the Obama administration while outlining his role as the leading, if informal, facilitator of peace feelers from the Libyan military to the U.S. military. He was speaking this week at the National Press Club in Washington, D.C., where the Citizens' Commission on Benghazi was presenting its interim report. Kubic maintains that to understand Benghazi, the Sept. 11, 2012, attacks in which four Americans, including U.S. Ambassador Christopher Stevens, were killed, "you have to understand what happened at the beginning of the Libyan revolt, and how that civil war that created the chaos in Libya could have been prevented."
Particularly in light of his senior military experience, Kubic's eyewitness story demands careful consideration. Like everything else about Benghazi, it also demands the official focus of a select committee investigation in Congress.
A short chronology sets the stage:
— On March 19, 2011, Hillary Clinton, then secretary of state, made a dramatic announcement from Paris on behalf of the "international community."
Eyes steady, voice freighted with dignity and moment, Clinton demanded that Qaddafi — a post-9/11 ally of the U.S. against jihadist terror-armies such as al-Qaida — heed a ceasefire under a newly adopted United Nations resolution, or else.
"Yesterday, President Obama said very clearly that if Qaddafi failed to comply with these terms, there would be consequences," Clinton said. "Since the president spoke, there has been some talk from Tripoli of a cease-fire, but the reality on the ground tells a very different story. Colonel Gaddafi continues to defy the world. His attacks on civilians go on."