Just as a pious Muslim would.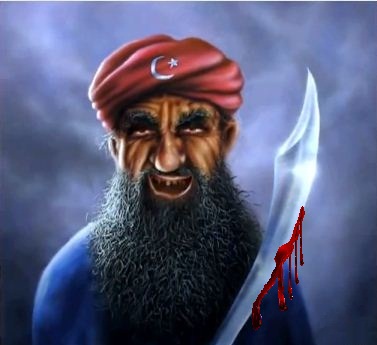 US prosecutors reveal how Abu Hamza recruited jihadists to fight against America in terror trial
Without his trademark: The court has ordered that Abu Hamza, seen here in a court sketch from Monday, could not wear his hook for security reasons but is allowed to wear a prosthetic that allows him to write and take notes
Abu Hamza is on trial in New York and the prosecution gave their opening statement on Thursday morning
Said how the former imam 'hid in plain sight' while running the Finsbury Park mosque in north London
Charged that Hamza recruited men to travel to the United States and Afghanistan to carry out jihad missions
He asked to give his own opening statement but the judge denied him
An imam associated with al Qaeda 'hid in plain sight' at London's notorious Finsbury Park Mosque, posing as a firebrand imam and community leader while secretly engaged in a 'global campaign to spread terror', a New York court heard today.
Prosecutors told how Abu Hamza, the 56-year-old former nightclub bouncer on trial in lower Manhattan, used the mosque as a base from which to try make hundreds of converts to his creed of violent jihad.
They said in their opening statements on Thursday that Hamza would send his recruits as far afield as the western United States and Afghanistan in the cause of killing non-Muslims, prosecutor Edward Kim told a courtroom in Manhattan.
Read more:  H/T: Gaia